32 Awesome Things To Do In Fukuoka Japan
Despite being a large city, Fukuoka is a perfect destination for those who want to enjoy both the city and nature, with many shrines and temples, as well as abundant nature and the beautiful sea a short distance away.
Fukoka's unique gourmet offerings, include Hakata ramen, mentaiko (cod roe), and other delicacies, and eating some great food in the outside yatai food stalls is one of the best things to do in Fukuoka.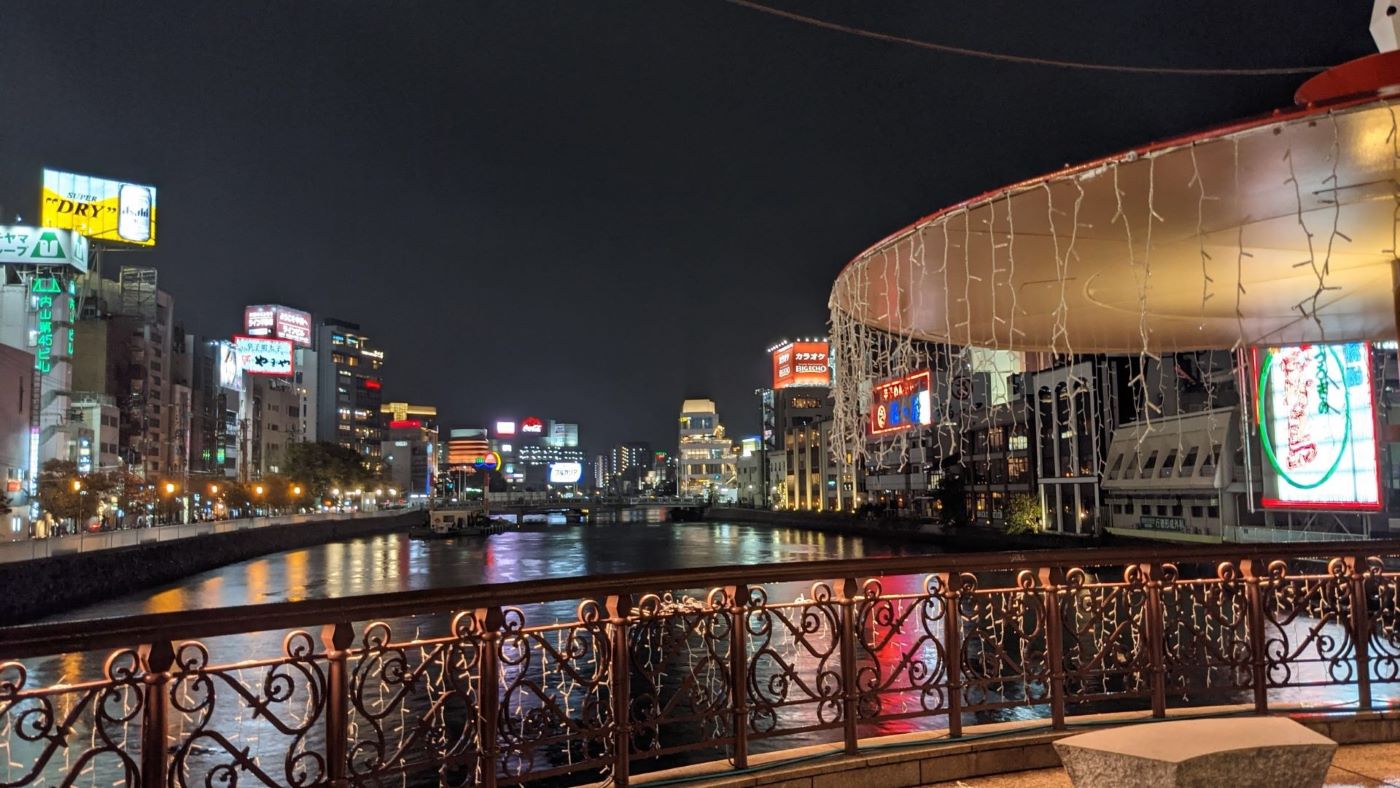 In the old city area within walking distance from Hakata Station, skyscrapers and condominiums stand side by side with historical buildings, making it an interesting experience to stroll around and see several different eras at the same time.
With modern entertainment facilities, nightlife spots perfect for dates, and many places to enjoy with children, Hakata is a destination that is sure to be enjoyed by friends, couples, families, and visitors of all ages.
Check the Japanvisor list of the best things to do in Fukuoka and the surrounding areas.
Yatai
Yatai stalls are spread out around Nishitetsu Fukuoka (Tenjin) Station and Tenjin-Minami Subway Station. During the daytime, the street is surrounded by department stores, but in the evening, the appearance of yatai stalls gives it a different look.
The setup of the yatai stalls makes it possible for even beginners to enjoy the stalls. Many people may think of yatai as Hakata ramen or oden, but in the Tenjin area, you will find Chinese and Korean food Read More.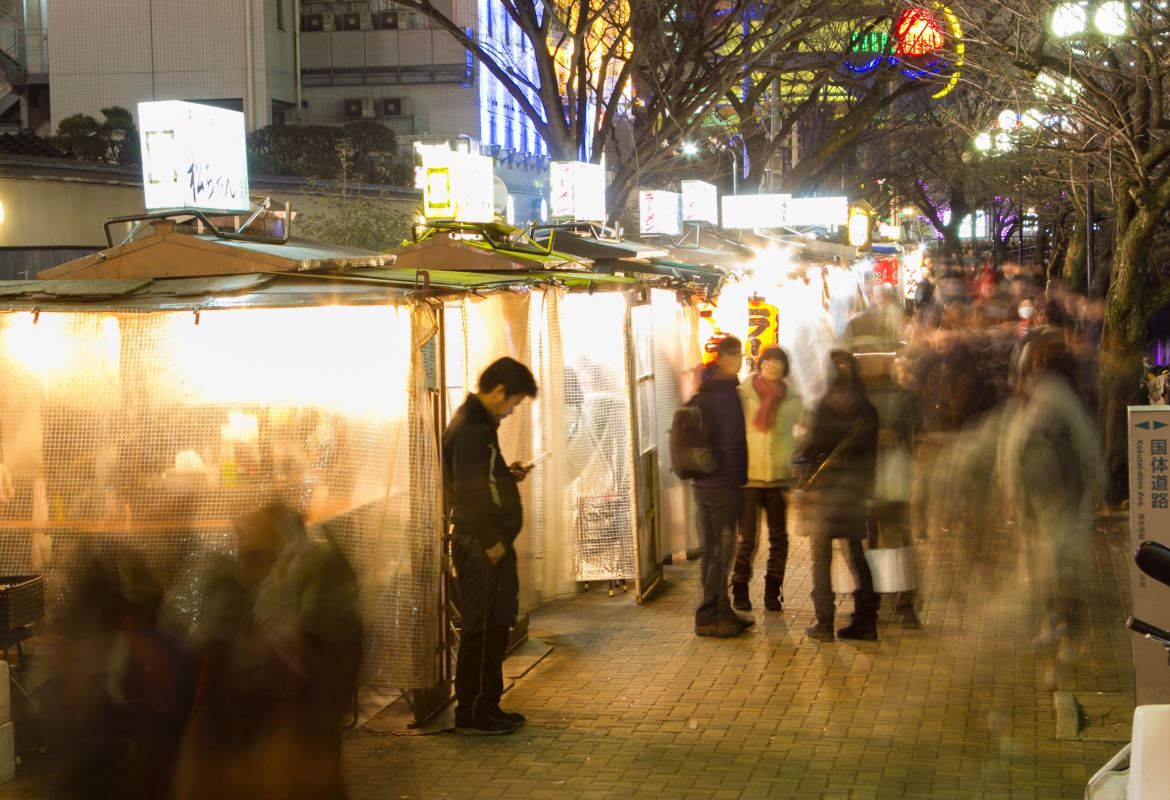 Still, at most of the yatai you will be able to get tonkotsu ramen and it's also worth trying some of the Mentaikyo-based dishes.
Access Around Tenjin Subway Station, Tenjin Minami Station, Nishitetsu Fukuoka Station
Business hours Varies depending on the stall.
Website http://yatai.fukuoka.jp/fukuokaeki
Shintenmachi Shopping Street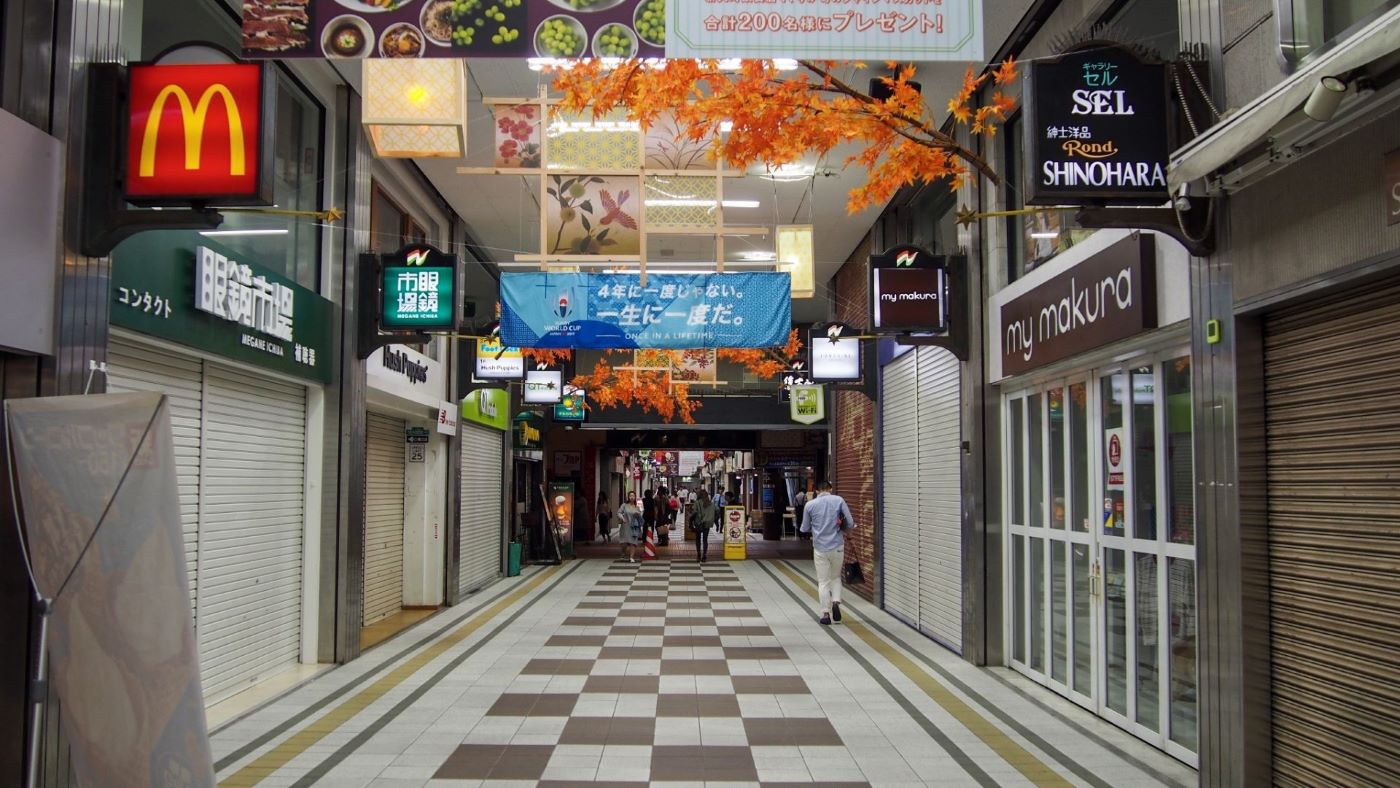 The Shintencho Shopping Arcade is the first arcade-style shopping street in western Japan, stretching from Tenjin Station to Tenjin Nishi Dori, and is lined with about 100 stores, including fashion, kimono, sundries, accessories, pharmacies, CD stores, bookstores, restaurants, and more.
In the center of the shopping arcade is the "fairy tale square" where the largest clock tower in Japan (17 meters high and 25 meters wide) called the "fairy tale chime" is installed, and the clock chimes at every hour of the day.
This a good place to visit while you are in central Fukuoka and in the surrounding Tenjin area there are plenty of other shops.
Fukuoka Castle Museum Mukashi Sansakukan
Maizuru Park, a popular resting place for Fukuoka citizens, is where the castle of the Fukuoka Domain (520,000 goku) was located 400 years ago. The Fukuoka Castle Museum was built at the intersection of the past and the present.
Upon entering, visitors will notice a 1:400 scale model of Fukuoka Castle. It is located in the center of the exhibition room, and the entire floor is covered with old maps.
The old maps are placed alongside the replica, allowing visitors to experience Fukuoka Castle from various angles. Visitors feel as if they are strolling through time, stirring up the romance of history.
Access: 8-minute walk from Akasaka Station or Ohorikouen Station on the Municipal Subway Kuko Line.
Canal City Hakata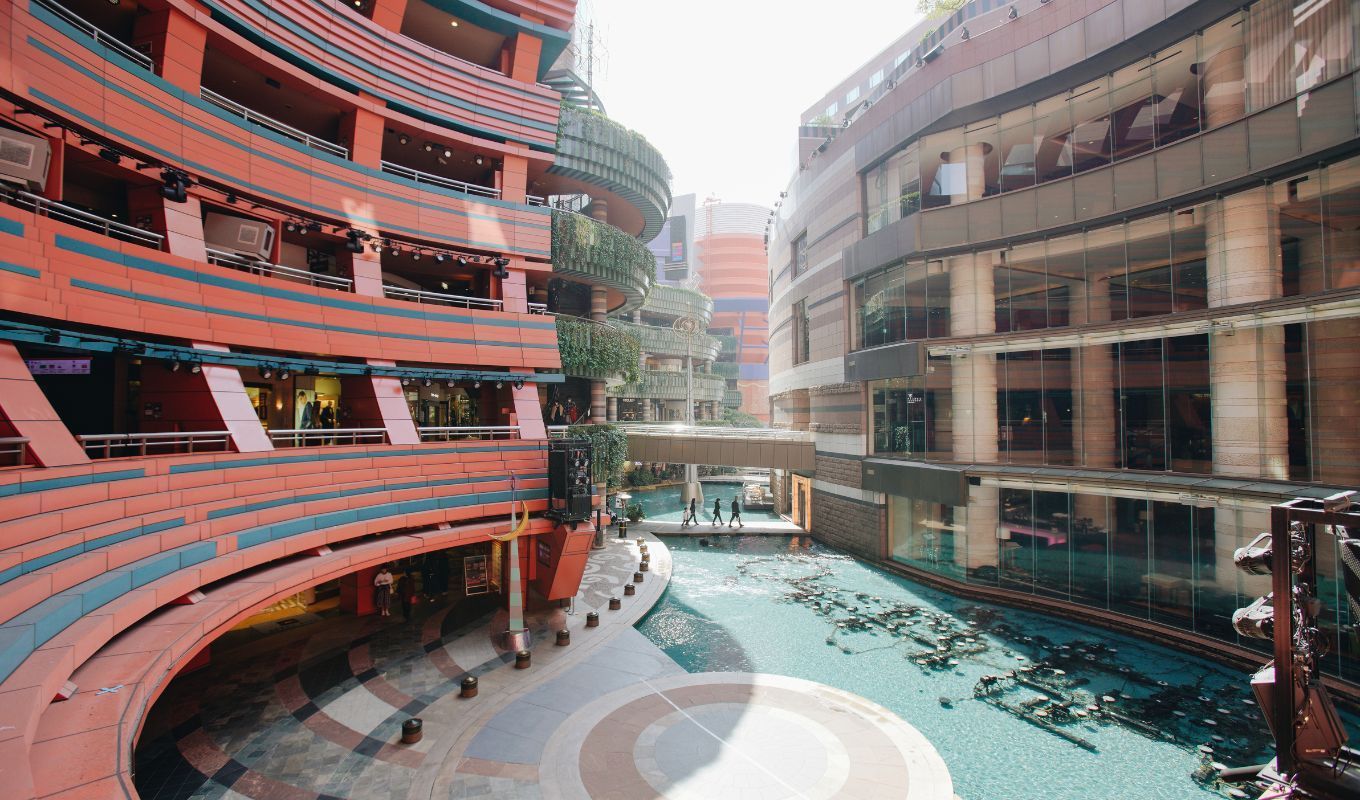 Want to do some shopping in Fukuoka or just shelter from the rain or heat? The Canal City Hakata is the place for you.
Located in Hakata ward, just a short walk from Nakasu it is a complex facility that includes not only shopping, but also dining, movie theaters, theaters, amusement parks, hotels, and more, making it a fun place to spend a few hours.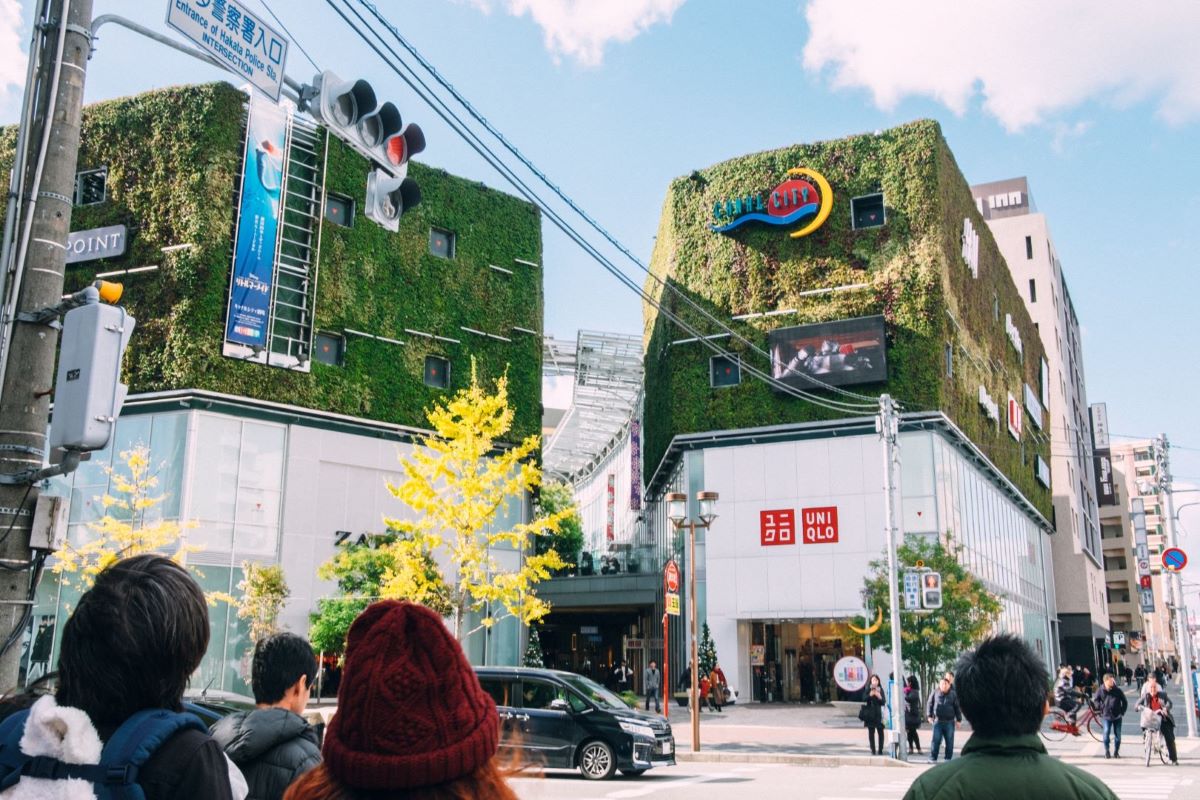 Canal City Hakata also has a ramen stadium, where you can enjoy visiting ramen stores, which is a must when you come to Fukuoka Japan.
Kawabata Shopping Street
Enjoy the local atmosphere at the Kawabata Shopping Arcade
Kawabata Shopping Street is a 400-meter-long shopping arcade with about 100 stores selling Hakata souvenirs and gourmet foods.
One of the best places to visit if the timing is right is Kawabata Zenzai Hiroba, which is open only on Fridays through Sundays, on holidays, and during festivals and other events.
The decorative Yamakasa floats that run during the Hakata Gion Yamakasa festival are on display throughout the year.
To get to the Kawabata Shopping Arcade, take the subway from JR Hakata Station and get off at Nakasu Kawabata Station.
Across Fukuoka Step Garden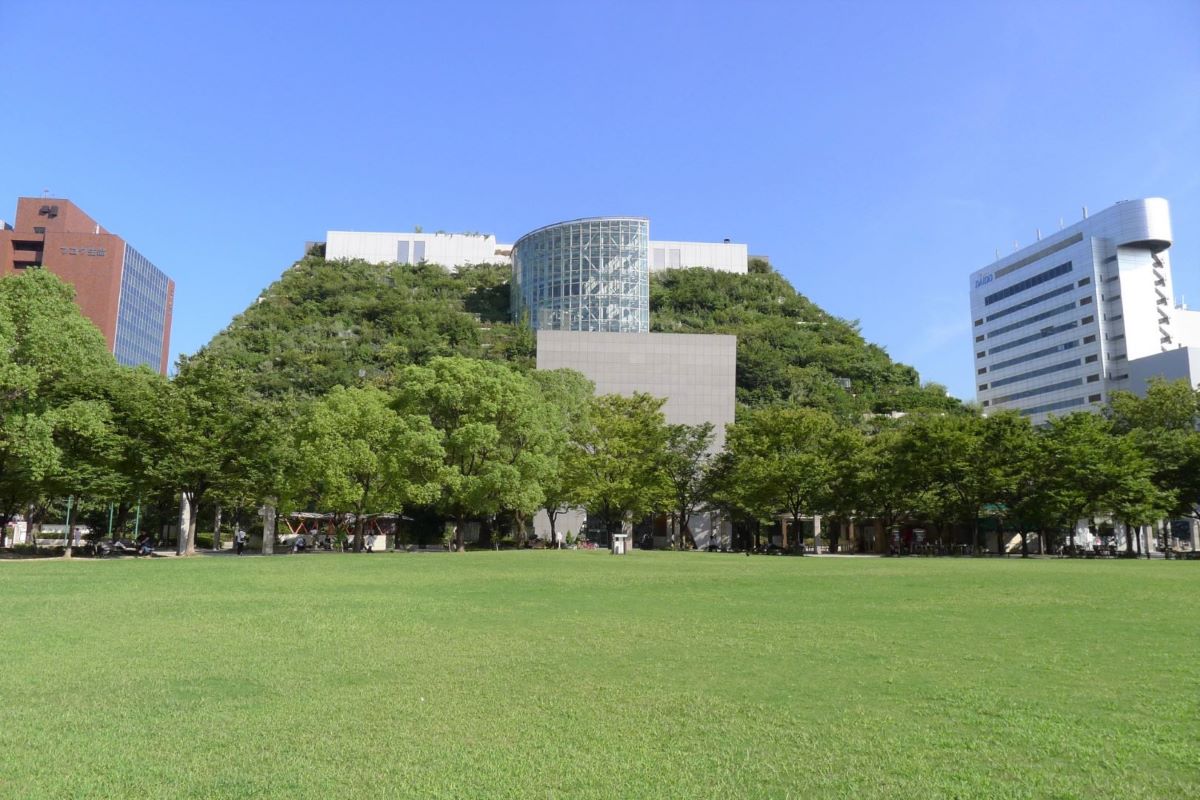 Across Fukuoka, a public-private complex is located near Tenjin Central Park.
On the south side of the park, which is covered with greenery all around, there is a stepped "step garden. The steps are planted with 50,000 trees of about 120 species, and a waterfall runs through the steps, making it a popular urban oasis.
Enter through the small gate and you can climb all the way up to the top. There are a few seats if you want to take a rest in the shade on the way up. It's especially nice in Autumn when the vibrant red foliage is on display.
There's a large lookout on top where you can get a great view of the city skyline and beyond. This is a totally free activity.
Pro Tip: The Tenjin city park has a great lawn and picnic area to grab a bento from the convenience store and have a quick lunch.
Yanagibashi Market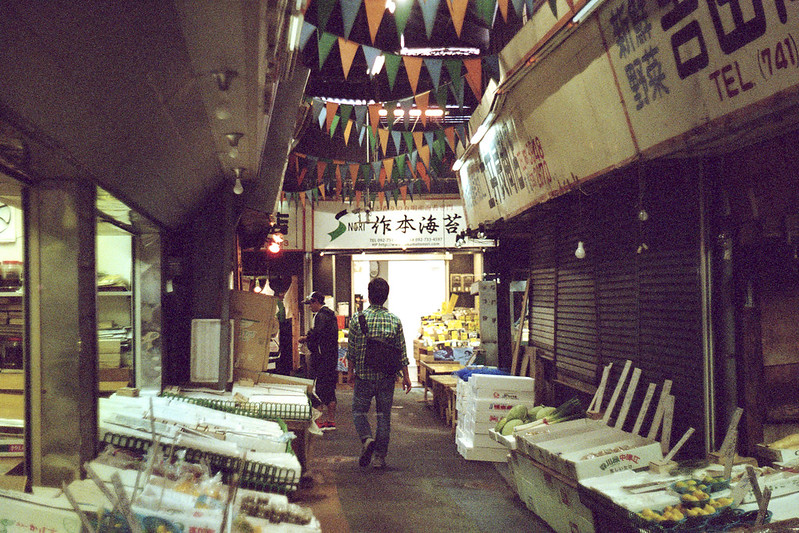 Known as "Hakata's Kitchen," the market is a 100-meter-long alleyway intertwined with side streets and back alleys.
The market is lined with about 50 stores selling a variety of foodstuffs, including fresh fish from the Genkai Sea, seafood from the Ariake Sea coast, and Hakata's famous mentaiko (seasoned cod roe).
Opening hours 8:00 – 18:00
Tenjin Underground Shopping Center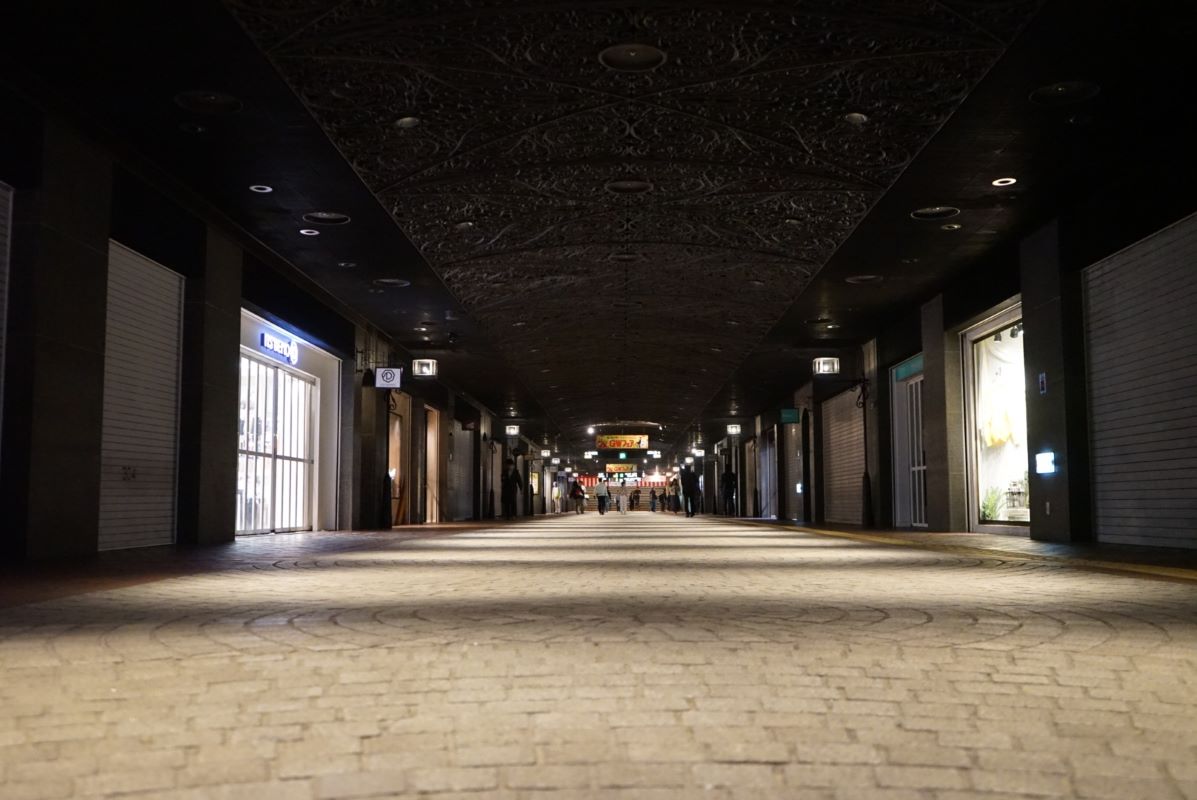 Tenjin Underground Shopping Center is a European-style underground shopping center that is like a work of art in itself.
Known by the nickname "Tenchika," this historic underground shopping mall was established in 1976.
The 590-meter-long (north-south) underground shopping mall has about 150 tenants offering fashion, gourmet foods, services, and more. The space was created in the image of a prestigious 19th-century European townscape based on iron, bricks, and stones.
The five plazas even have natural lighting, which is rare for an underground shopping mall and it's a space where locals often meet talk and relax.
Access: Direct connection from Tenjin Station on the Municipal Subway Kuko Line and Tenjin Minami Station on the Municipal Subway Nanakuma Line
JR Hakata City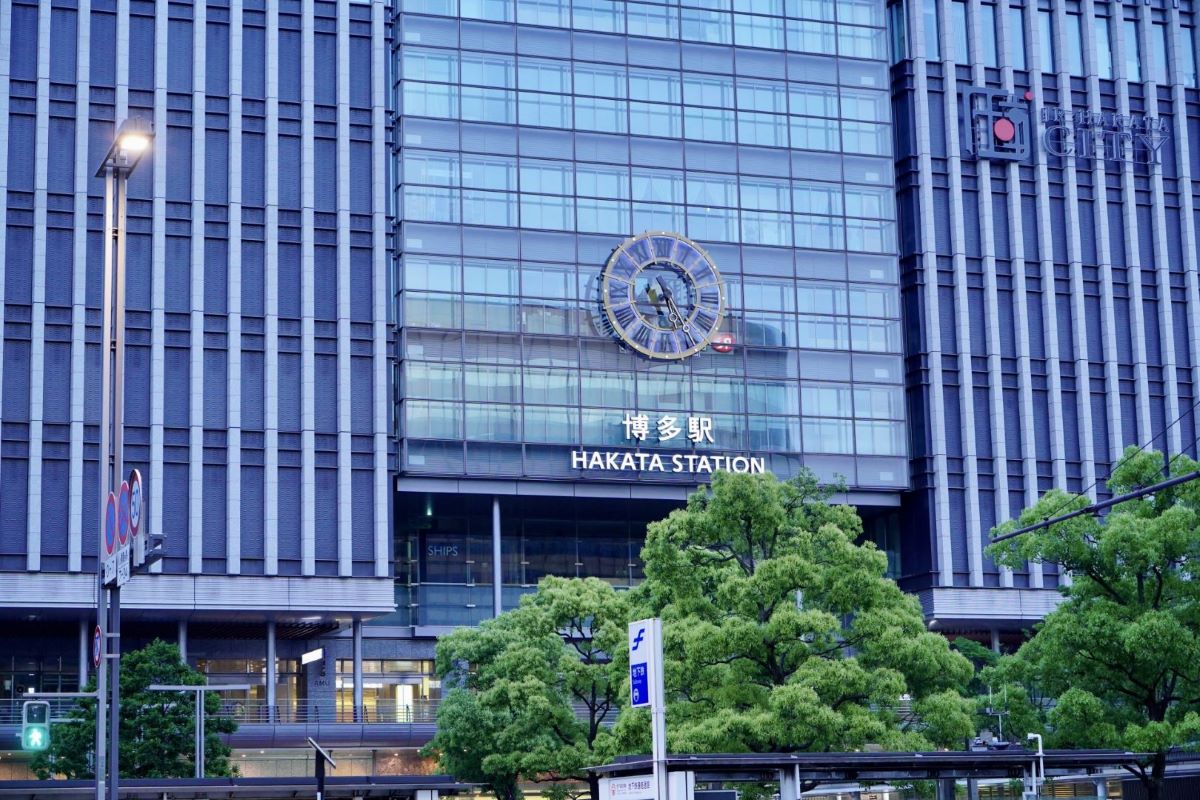 JR Hakata City is a large-scale commercial facility directly connected to Hakata JR Station. Here you will find a wide variety of popular souvenirs and sweets to satisfy your hunger.
Amu Plaza Hakata's "City Dining Kuten" underwent a major renovation in 2019, bringing together the hottest restaurants.
Among them are "Hakata Udon Sake Bar Wahachi," a tavern where udon is the signature dish, and "Hakata Mizutaki Hamadaya," where you can enjoy Hakata's famous hot pot from a single serving, both of which are hot spots in the station where you can taste Hakata gourmet food.
Fukuoka Tower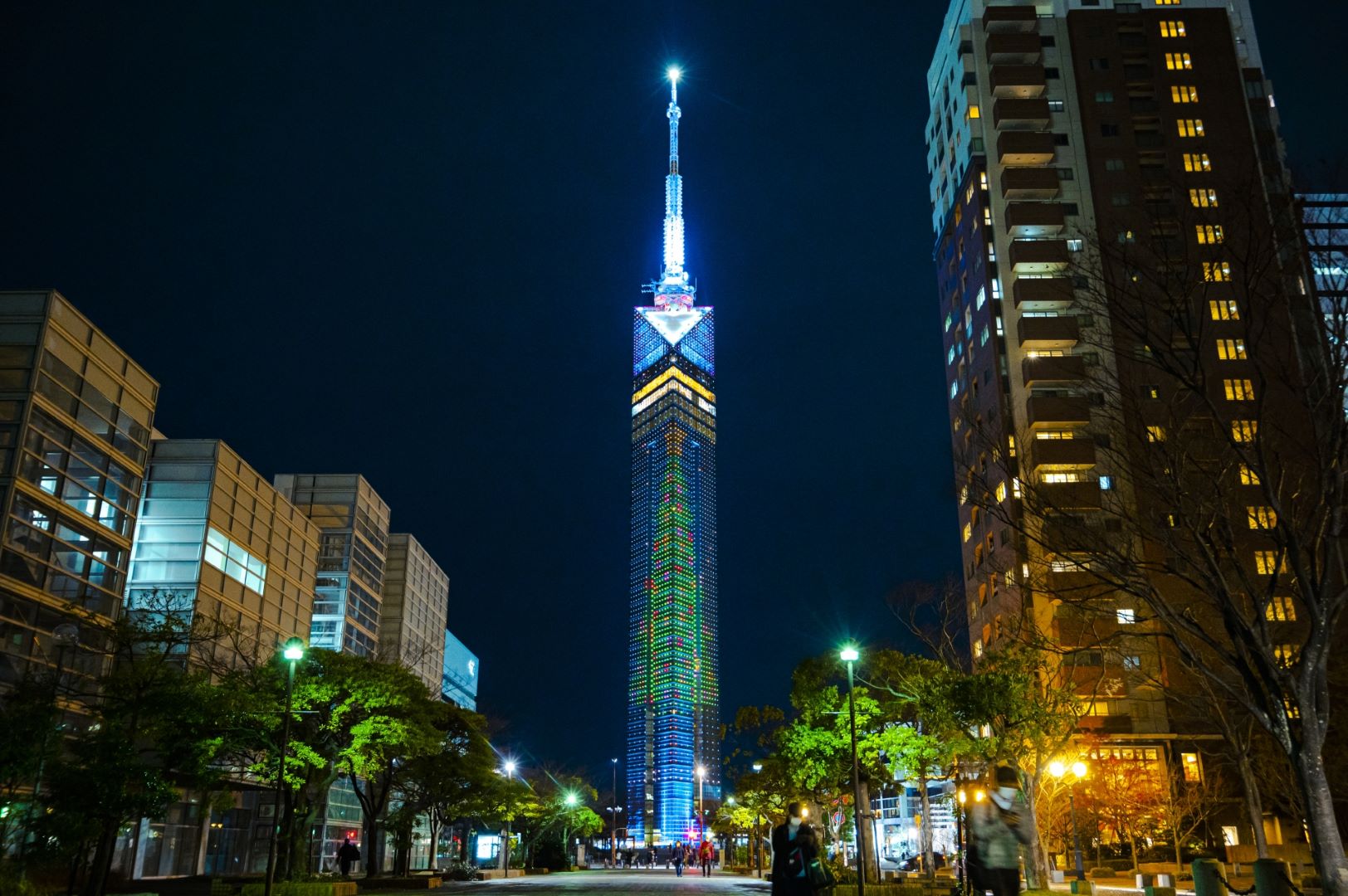 This radio tower symbolizes Fukuoka and has become a beacon and symbol of the city. Unlike the Tokyo Tower and other towers, it has a modern appearance with half-mirrors laminated on top of each other. 234 meters high, it has three observation floors.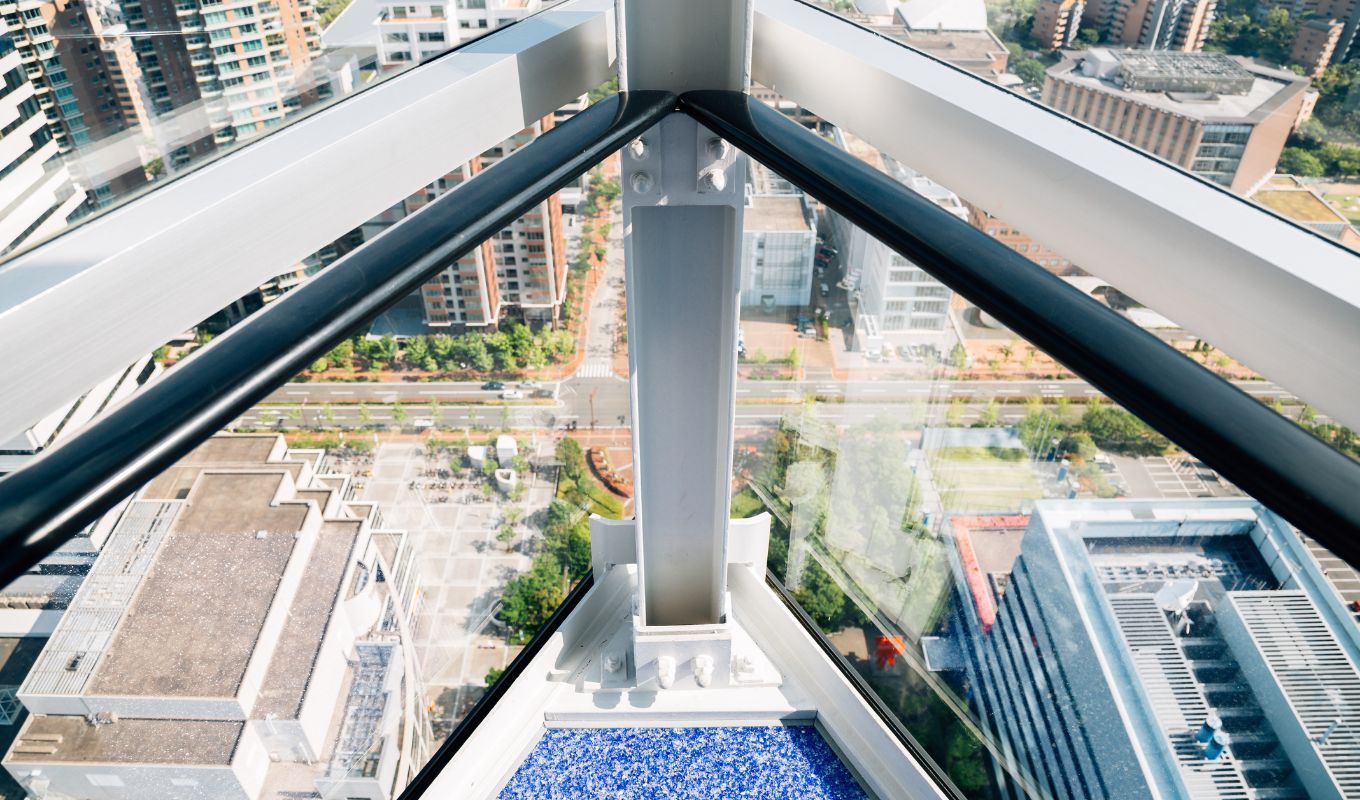 The tower is 234 meters high, and its observation deck is divided into three floors, including a restaurant and entertainment floor.
From the observation deck on the top floor, 123 meters above the ground, visitors can enjoy a 360° panoramic view of Fukuoka's cityscape and Hakata Bay.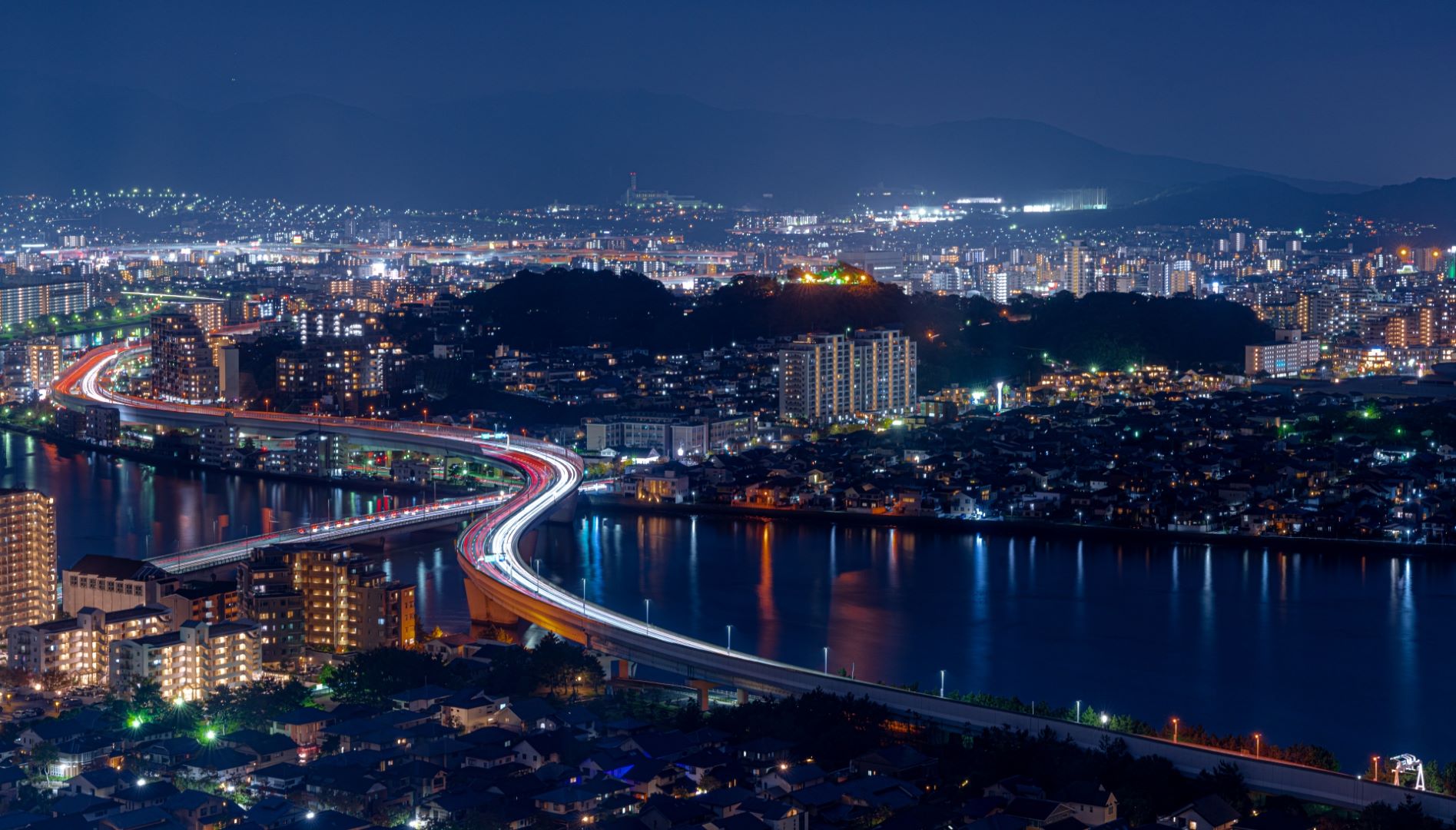 Discounts are available with various sightseeing spots and for birthdays, so be sure to check in advance.
URL: https://www.fukuokatower.co.jp/
Momochi Seaside Park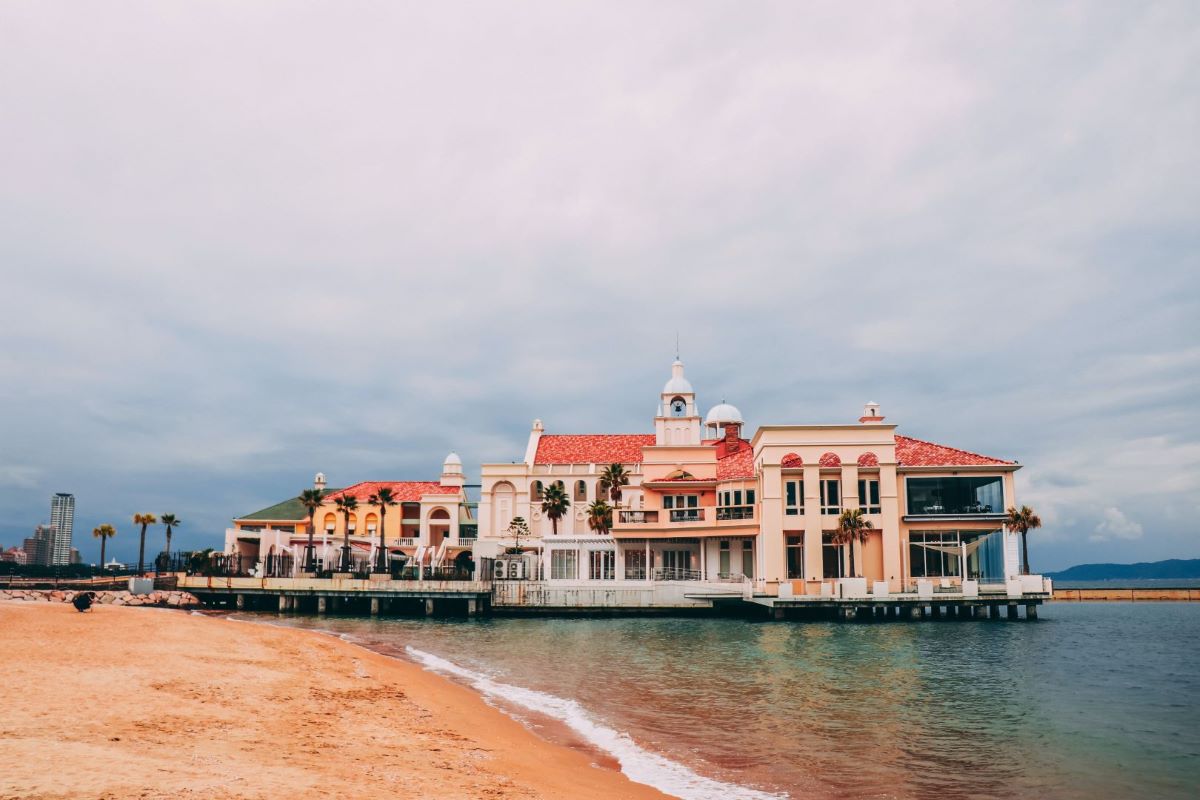 This park is located by the sea near Fukuoka Tower and a trip over to this side of town is one of the best things to do in Fukuoka. The park has a white sandy beach where visitors can swim and play on hot days such as summer.
Free showers and other facilities are available. In other seasons, it is a great place to take a stroll and spend some relaxing time. There are a few restaurants right on the beachfront with surprisingly good food.
Other events such as yacht races and beach volleyball are also held here, attracting many tourists and locals.
Fukuoka Castle Ruins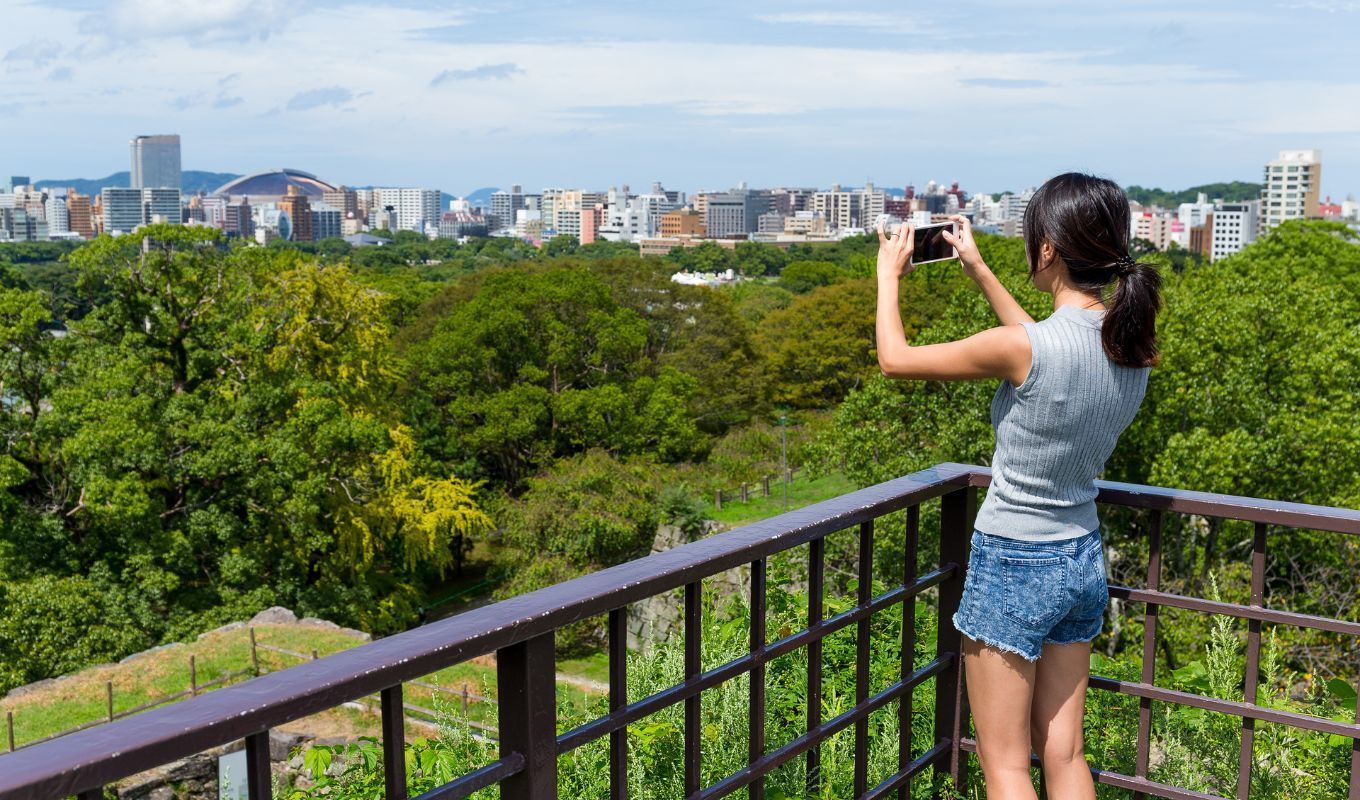 In the castle ruins, there are Heiwadai Athletic Field, Fukuoka Castle Museum of Ancient History, and Korokan Ruins Exhibition Hall.
The castle was built in 1601 by Nagamasa Kuroda on a low hill called Fukusaki overlooking the Genkainada Sea. In ancient times, the Dazaifu's Korokan was located here, and it was an important location for holding the route from Karatsu to Hakata and the Itoshima and Tsukushi plains.
It took seven years to complete the construction with Noguchi Kazunari, a skilled stone wall builder who had participated in the construction of the Osaka and Edo castles, as the builder in charge, following the model of the solid Jinju Castle that Nagamasa had seen during his campaign in Korea.
The castle was the residence of the Kuroda clan for more than 270 years over 12 generations. It is also called Maizuru Castle. Today, the Shimonobashi Gate, the Shiomi Tower, the Tamon Tower, and the Nagaya-mon gate of the Mazato Tahei residence are open to the public as Maizuru Park.
Ohori Park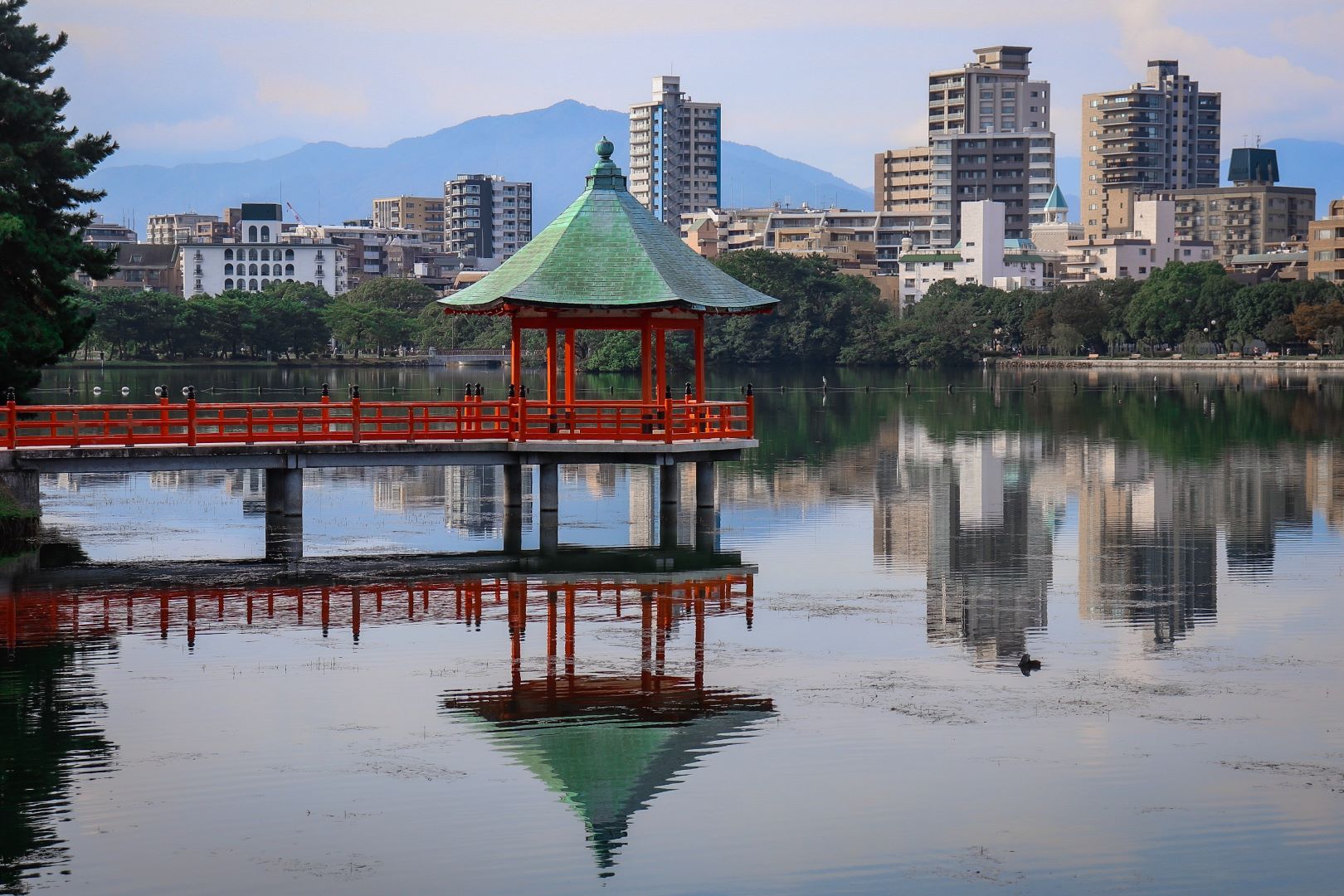 Ohori Park is a lovely place to visit when you travel to Fukuoka. The park is well maintained and everyone seems to be enjoying running, walking, and spending time in their own way. I envy Fukuoka citizens who have such a great park in the middle of the city. The scenery with water is very relaxing.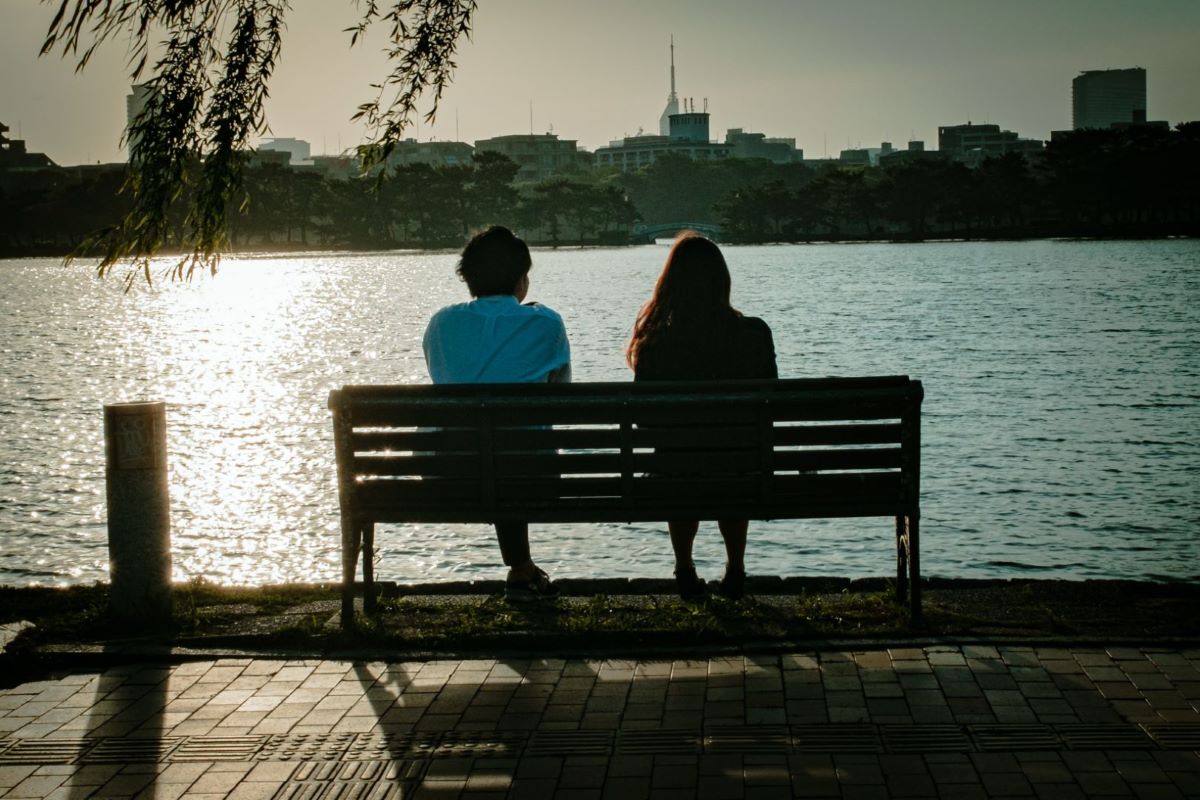 Ohori Park was created in March 1929 from the inlet called Kusakae, which was used as an outer moat when Nagamasa Kuroda built Fukuoka Castle, to the present park.
There's also a Japanese garden with 3,000 azaleas, green willows reflected on the water surface, an island in the middle connected by a bridge, and boats. You can find the Ohori park Japanese garden on the far side of the pond from the subway.
The 2km-long path around the island is popular with joggers and walkers.
Dazaifu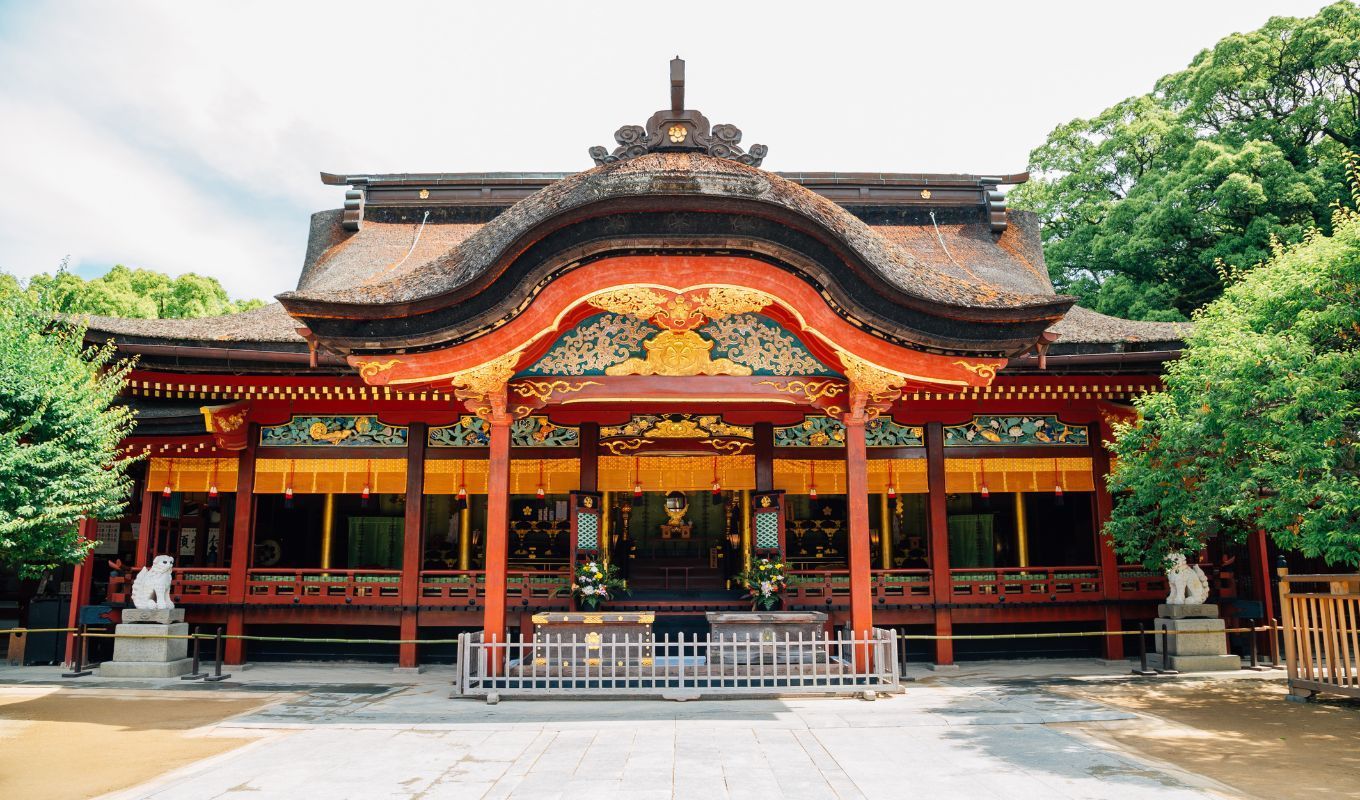 Dazaifu Tenmangu Shrine (Main Hall) Dazaifu City, Fukuoka Prefecture
Dazaifu is the site of a government office that flourished in ancient times. Dazaifu Tenmangu Shrine is famous throughout Japan as the god of learning and attracts worshippers from both inside and outside of the prefecture for the annual New Year's visit.
The shrine is a popular spot in Fukuoka that attracts tourists throughout the year. Lucky charms and talismans are also available on the grounds of the shrine.
The Kyushu National Museum can be reached on foot from a side street of the temple grounds, making it a regular route for large sightseeing buses and group tourists arriving by cruise ship from Asia. You can spend half a day on a relaxing sightseeing tour, including museum visits.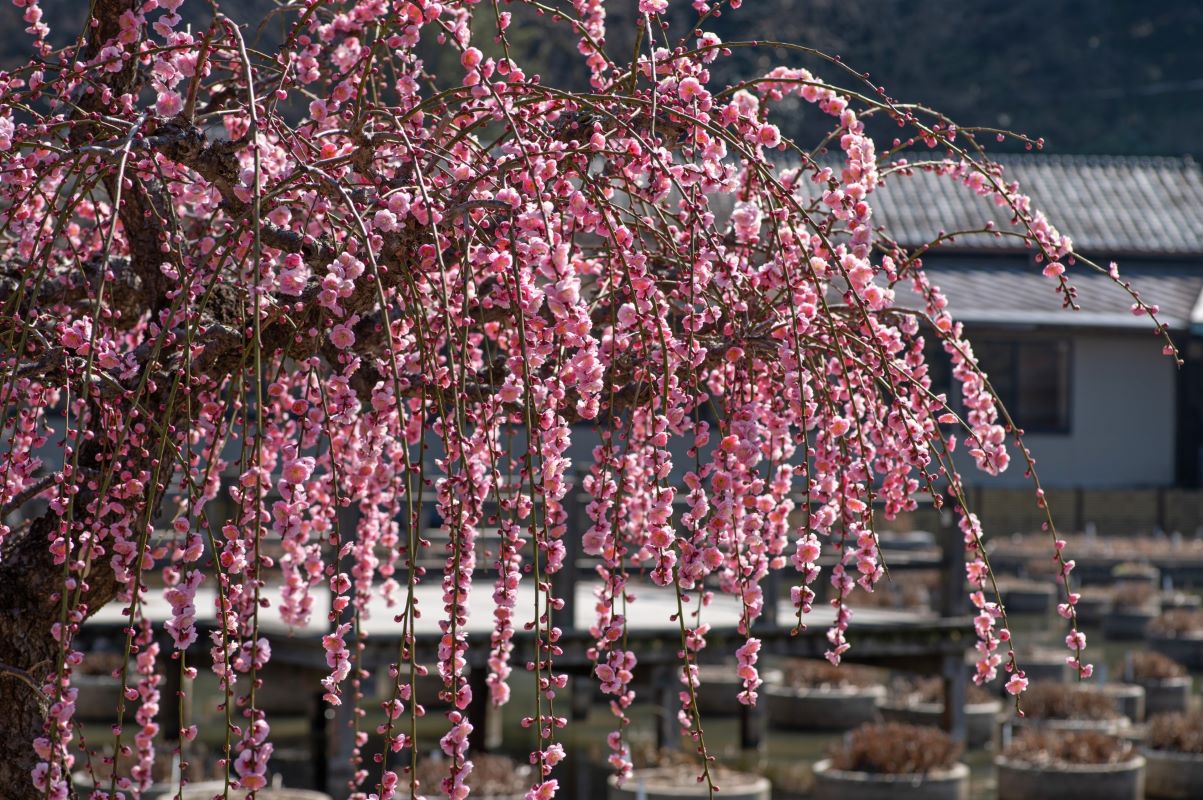 If you want to enjoy flower viewing, February is a good time to do so, when the plum blossoms planted on the grounds are in bloom, or June, when the iris flowers are beautiful.
Umegae cake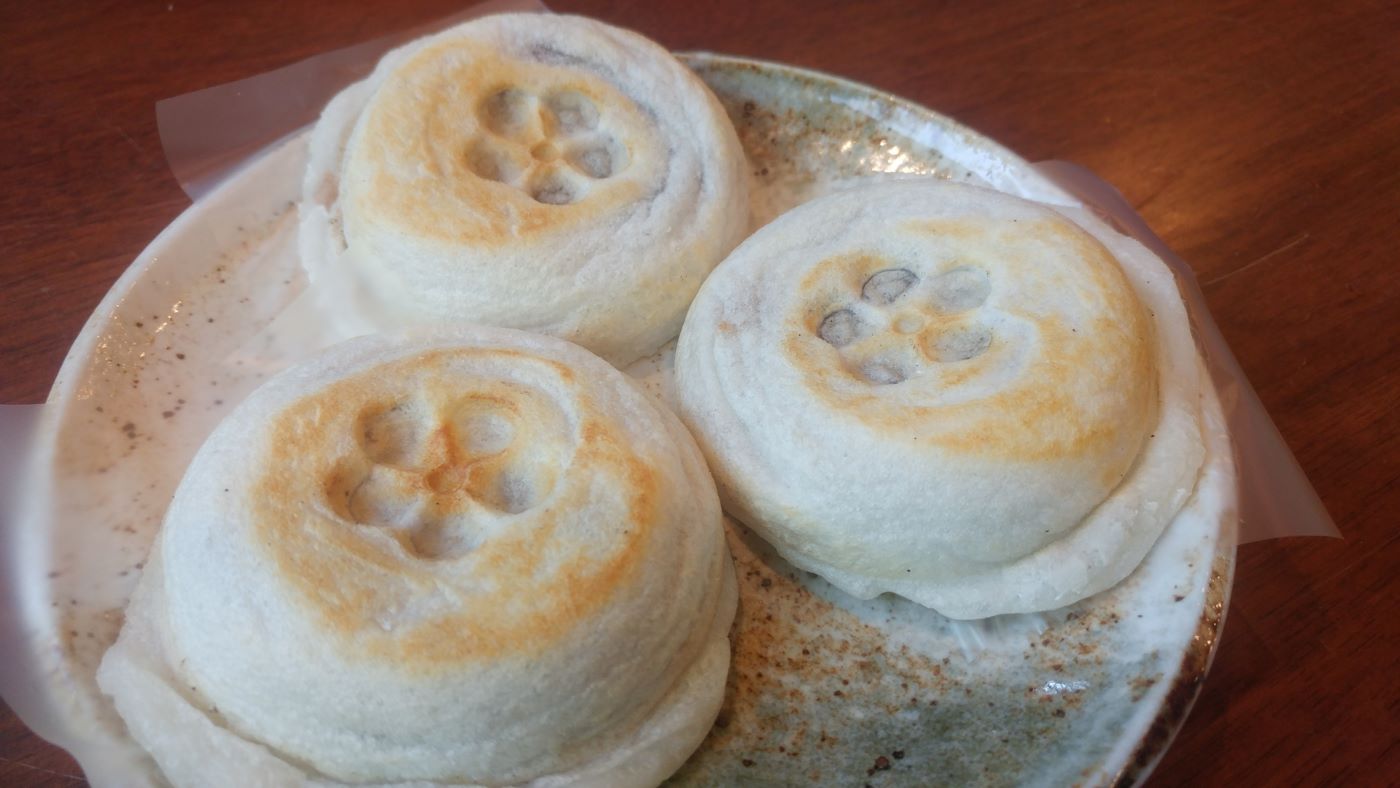 Umegae mochi, a specialty of Dazaifu Tenmangu Shrine, is sold at the tea stores lining the approach to the shrine. They sell them individually, so you can eat them while walking around, or have them with green tea at a tea store.
Kyushu National Museum
This is the fourth national museum in Japan, following Tokyo, Kyoto, and Nara.
The museum's concept is to "capture the origins of Japanese culture from an Asian historical perspective. Visitors can actually experience traditional costumes and musical instruments, allowing them to learn about history through all five senses.
When you get off the train at Dazaifu Station, you will be guided by arrows, so you will not get lost.
The building is new and beautiful. The permanent exhibition, events, and souvenirs are all well organized.
Tochoji Temple and Fukuoka Daibutsu (Great Buddha)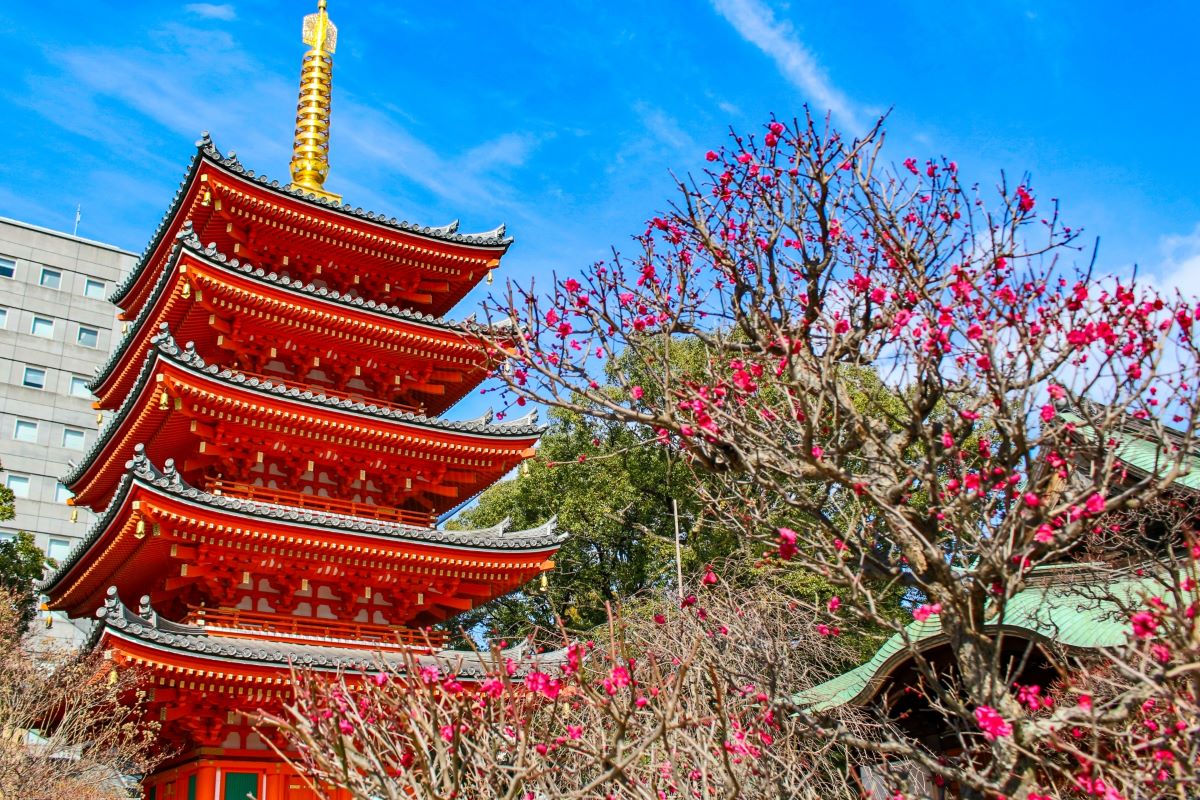 Tochoji Temple, founded by Kobo Daishi, is the head temple of the Kyushu Order of Shingon Buddhism.
On the temple grounds sits the gigantic Fukuoka Daibutsu, a 10-meter-high statue weighing approximately 30 tons, which was completed after four years of work.
In addition to the Fukuoka Buda, known as the largest seated wooden statue in Japan, the 5,000 small Buddha statues enshrined on the rear wall are also a must-see.
In addition, Rokkakudo, the city-designated Buddhist hall, contains calligraphic works and paintings by inkan and literary figures.
It's a 1-minute walk from Gion Station on the Subway Kuko Line
Kushida Shrine
Kushida Shrine is the sacred site of the Hakata Gion Yamakasa Festival and is loved by locals as the guardian shrine of Hakata.
Near the entrance of the shrine grounds, there is a 1000-year-old ginkgo tree called Kushida no Ginkgo, which is designated as a natural monument by the prefecture.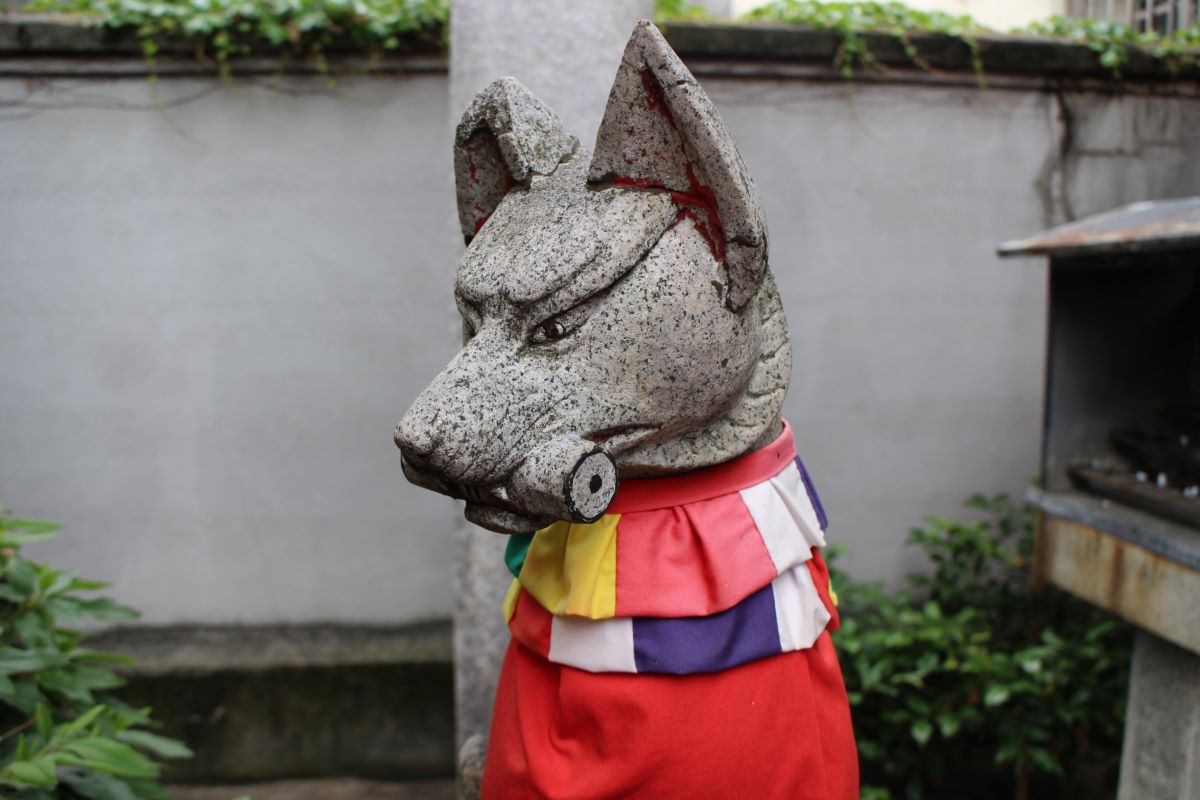 It is a popular sightseeing spot for people who come to pray for a prosperous business.
The decorated floats of the nationally famous "Hakata Gion Yamakasa" festival are permanently displayed in the precincts of Kushida Shrine.
Hakata's Gion Yamakasa is one of the three major festivals in Fukuoka and reaches its climax with the Oiyama festival, which begins at 4:59 a.m. on the early morning of July 15.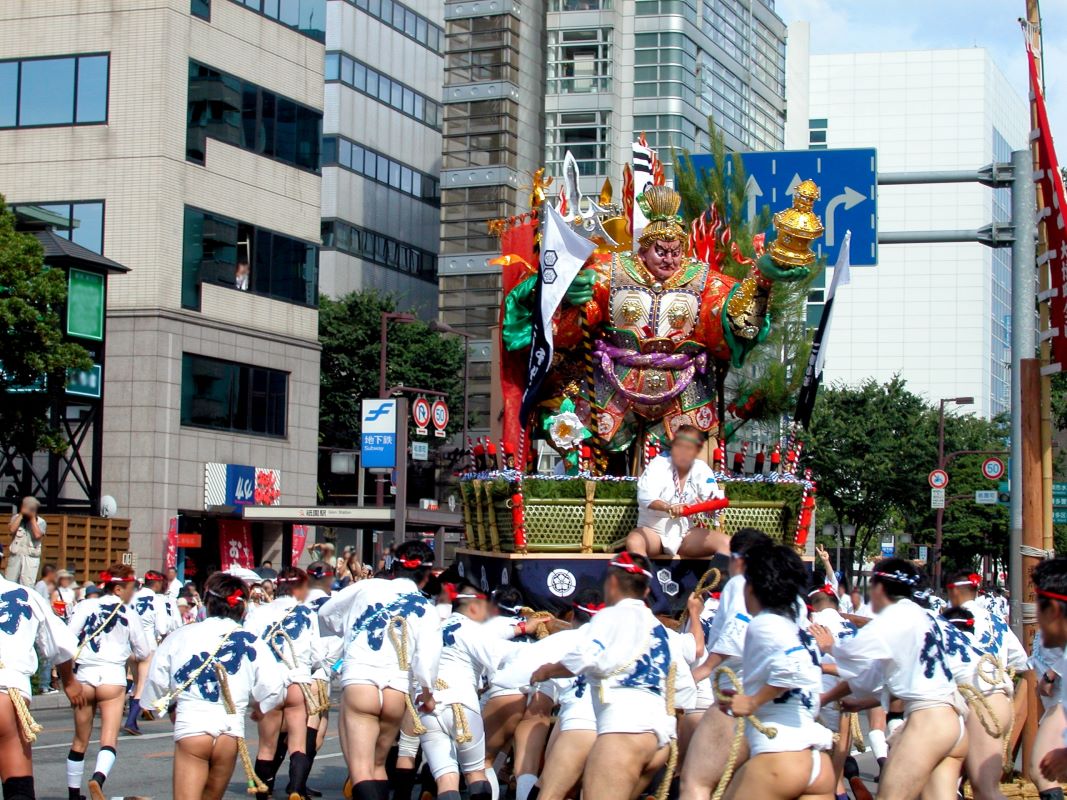 That oiyama begins with "Kushida-iri" (entering Kushida), and the first Yamakasa sings the Hakata celebration song in the precincts of the shrine.
Kushida Shrine is in Hakata ward a 13-minute walk from Hakata
Fukuoka Art Museum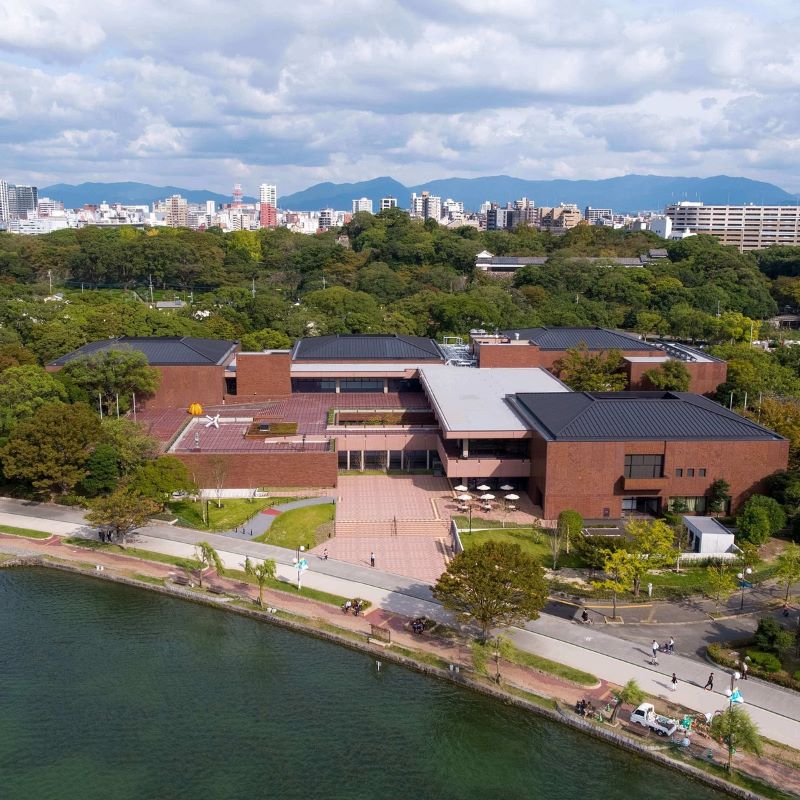 The Fukuoka Art Museum is located in Ohori Park. Despite its proximity to downtown, it is surrounded by lush greenery, making it an area where visitors can take a breather.
The museum opened in 1979. The museum's main collection includes works by painters associated with Kyushu as well as world-famous contemporary artworks.
In addition to permanent exhibitions, the museum also holds events and special exhibitions on a limited basis. You can enjoy old works of art from before the Edo period and modern and contemporary works at the same time.
The works of art are not limited to paintings, but can also be enjoyed in a variety of styles, including video, sculpture, folding screens, ceramics, and more, offering a wealth of diversity.
The museum also has a children's space, museum store, and café, making it convenient for family use.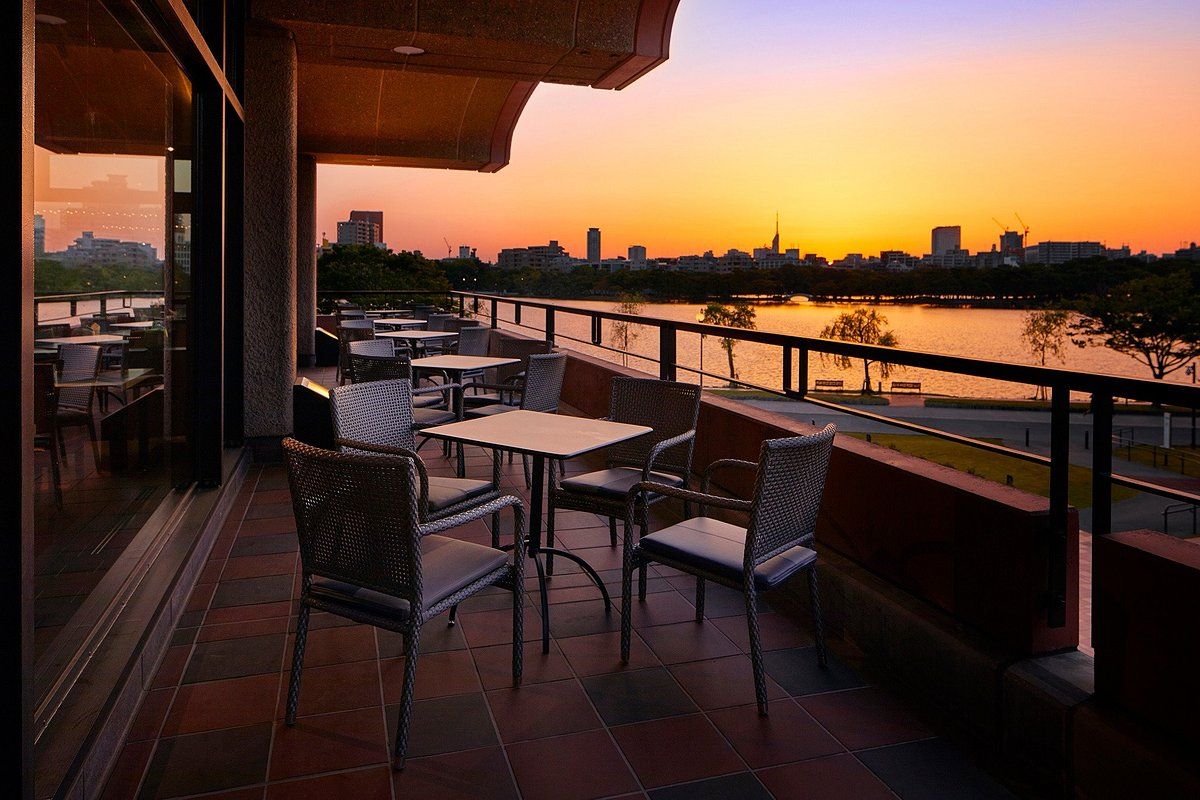 Fukuoka Art Museum has a pumpkin sculpture by Yayoi Kusama. It is located outdoors, and anyone can view it for free. There are also other places in Fukuoka where you can see Yayoi Kusama's hat sculptures.
Fukuoka Art Museum is located near Ohori Park. At the entrance of the building is a yellow pumpkin by Yayoi Kusama.
Fukuoka City Science Museum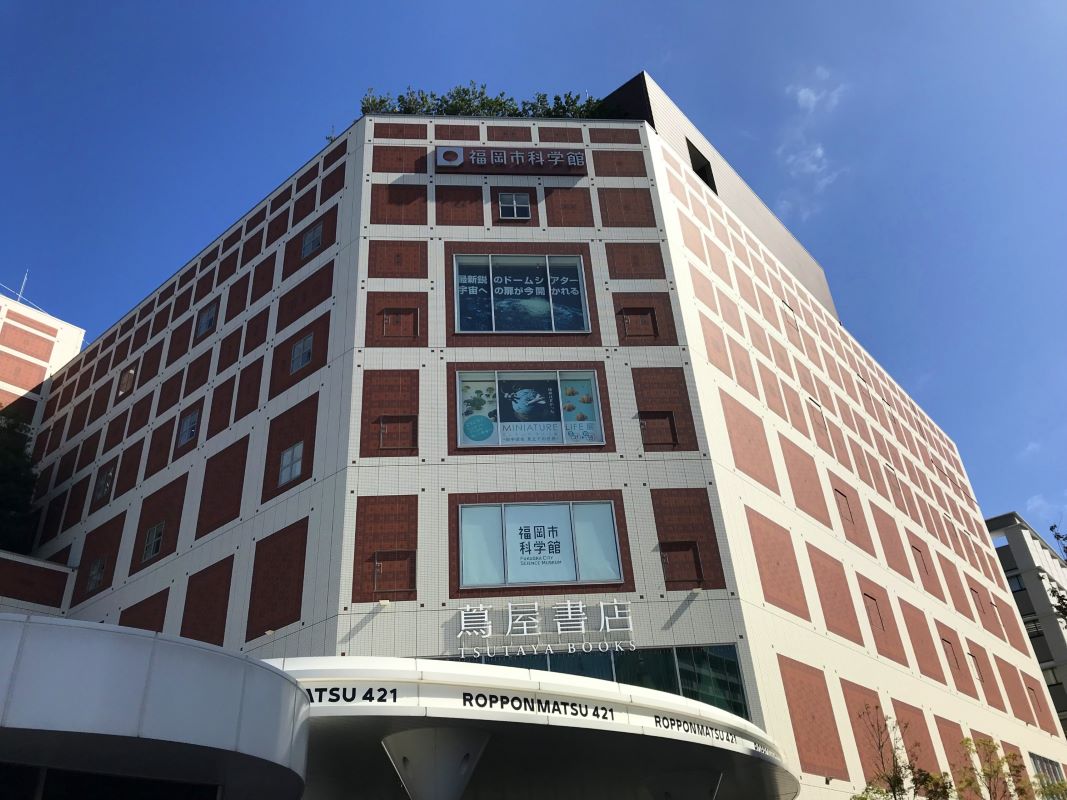 The science museum is located in front of Ropponmatsu Station. In addition to the basic exhibition rooms, the museum has a special exhibition room, a planetarium, a laboratory, a craft room, and other facilities where visitors can learn science through hands-on experience.
Various events such as science shows, astronomical observation events, and science experiment programs are also held.
Hours 9:30-18:00
https://www.fukuokacity-kagakukan.jp/
Rakusuien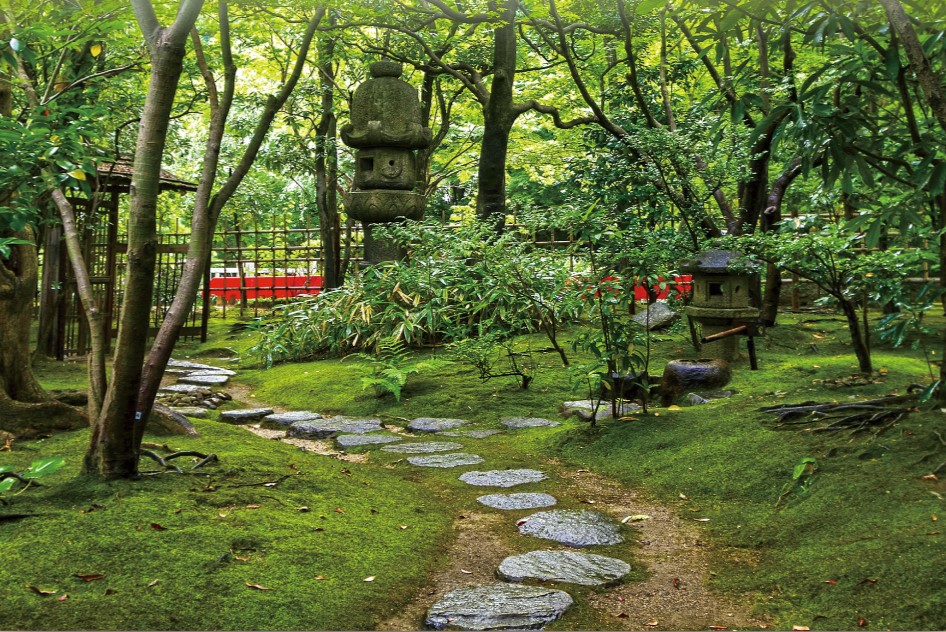 This is a garden with a pond garden, a typical garden style of the Edo period (1603-1867).
The garden was restored from a villa of a Hakata merchant in the Meiji period (1868-1912), and the Hakata wall has been restored around the villa.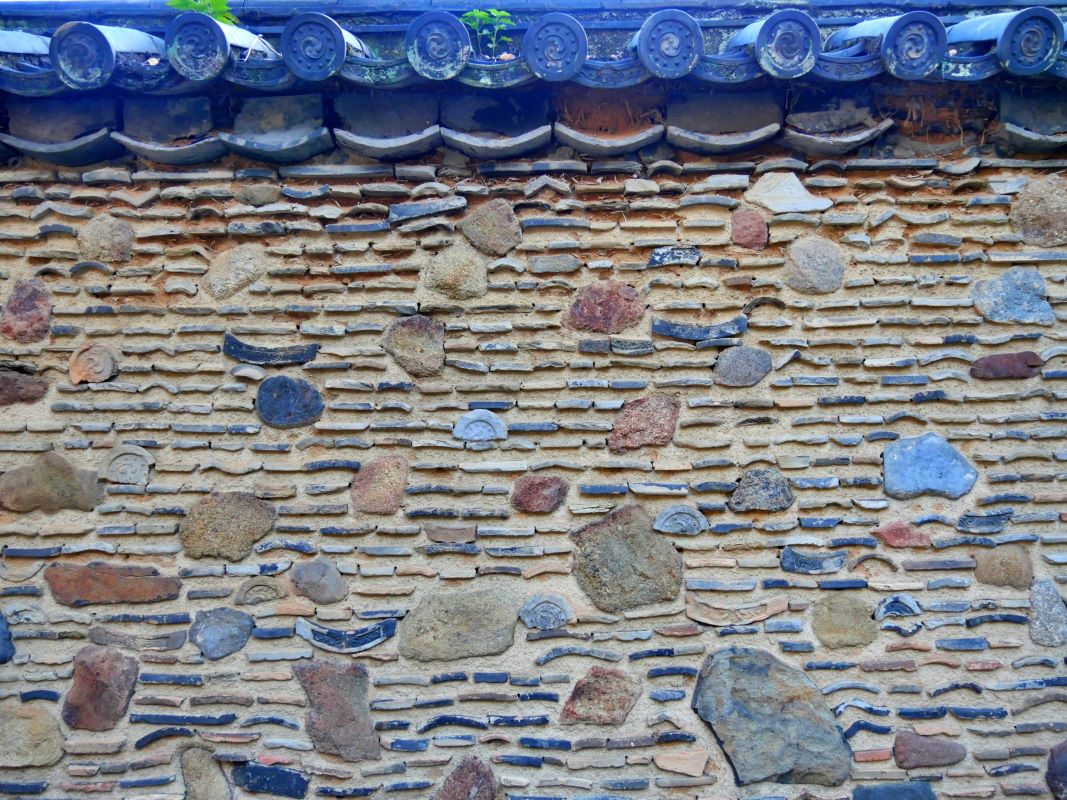 There is a tea ceremony room "Rakusui-an" and an outdoor tea ceremony space.
Access: 12-minute walk from JR Hakata Station, Hakata Ward.
Business hours: 9:00 – 17:00
Seiryu Park
Seiryu Park is an urban park located at the southern end of a sandbar on the Naka River, about a 15-minute walk from Hakata Station.
It is located in a busy downtown area with Canal City Hakata, one of Hakata's most famous shopping malls, and other buildings right in front of it across the river.
In spring, you can relax and forget about the passage of time while admiring the cherry blossoms blooming in the park and the beautiful plants and trees planted in the flowerbeds.
On Friday and Saturday nights from August to October each year, Hakata's annual night market titled Thousand Year Night Market is also held. The market attracts many locals and tourists with food stalls offering local delicacies and an outdoor stage where live music is performed.
Hakozaki Shrine
God of winning luck, visited by professional athletes
The shrine is also called "Hakozaki-Hachimangu" and is one of the three major Hachimangu shrines in Japan.
The main deity is Emperor Ojin, and Empress Jingu and Princess Tamayori-no-Mikoto are enshrined at the shrine.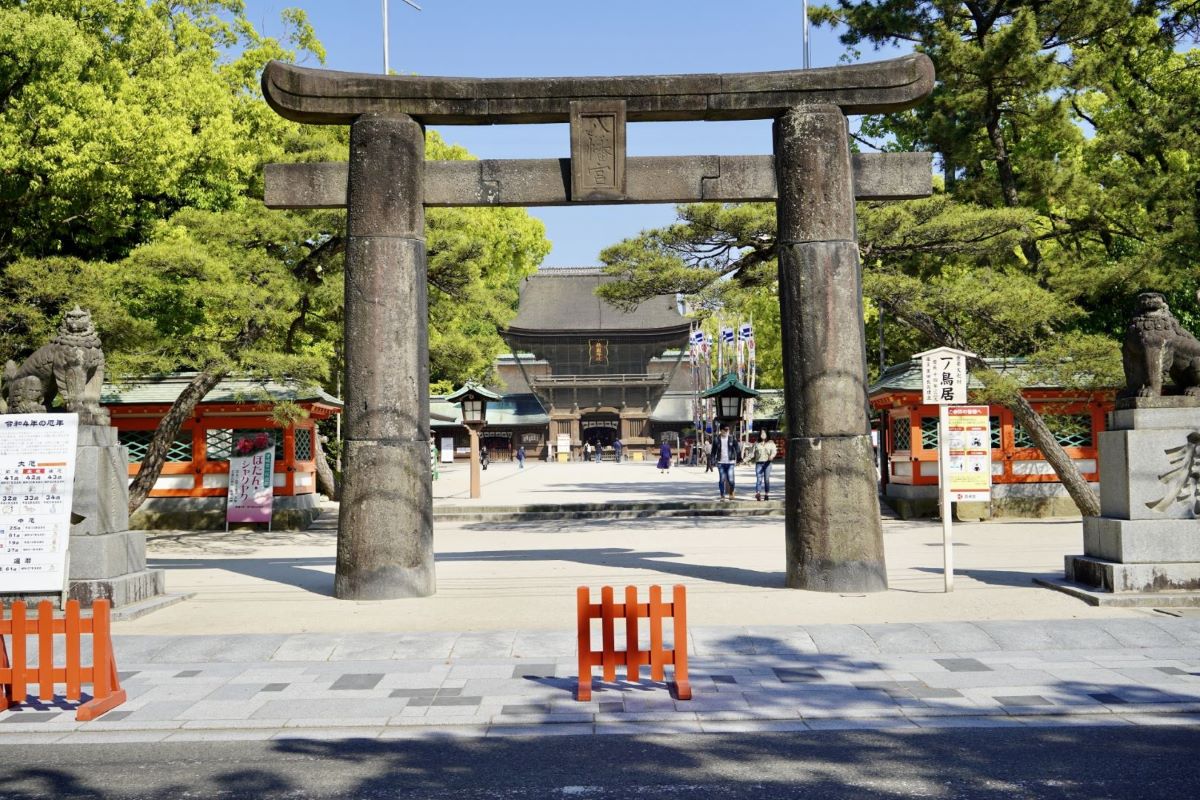 At the far west end of the shrine are the Hydrangea Garden and Shinen Hana Teien, where spring buttons and peony peonies are at their best in spring and hydrangeas in early summer.
The Tamatori Festival held on January 3 every year is a famous festival in which contestants fight for the yang ball, one of the two wooden balls that bestow good luck.
Hakata Port Tower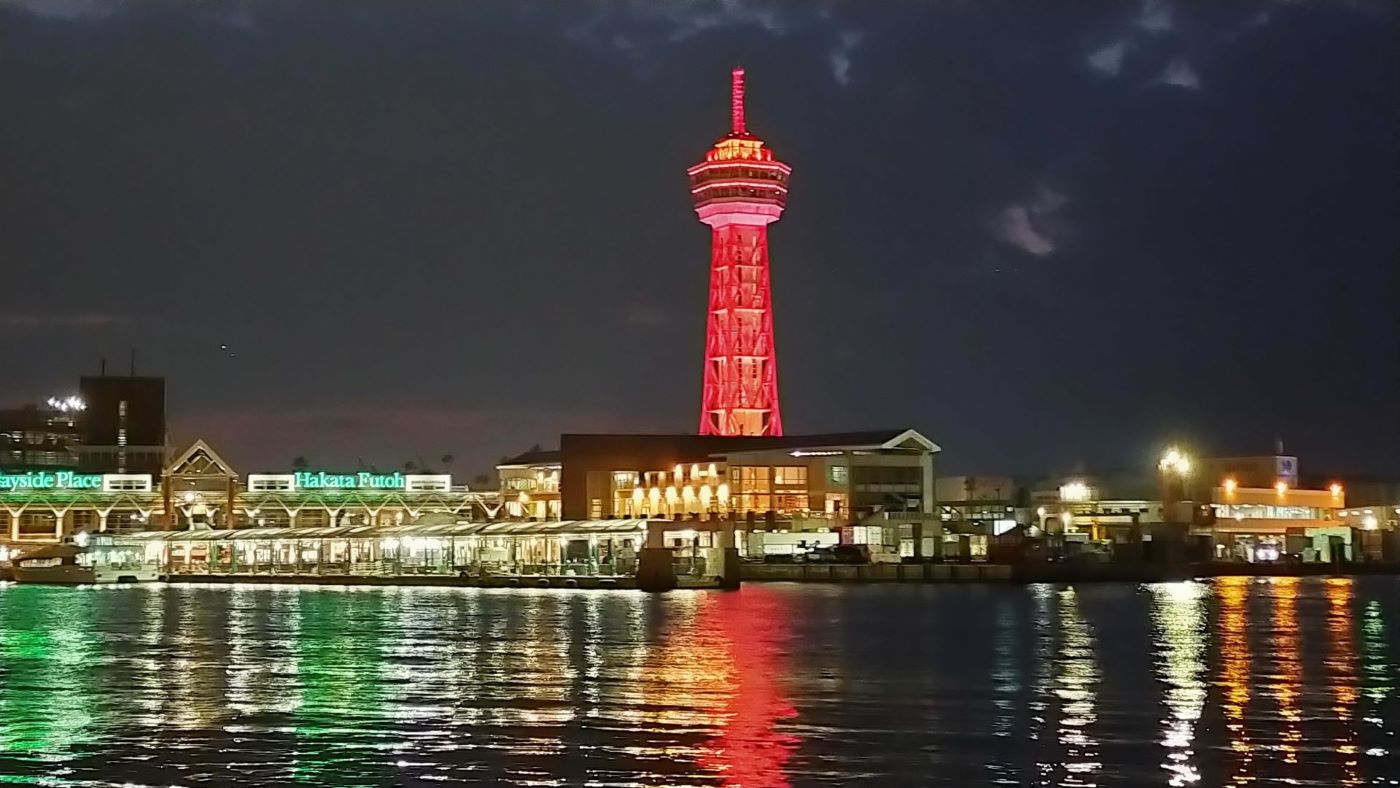 Hakata Port Tower is located at Bayside Place Hakata in Hakata Port, a 10-minute drive from JR Hakata Station, and is well known as a symbol of the Port of Hakata.
From the observation deck 70 meters above ground level, visitors can enjoy a 360-degree panoramic view of the islands in Hakata Port, ships passing through the port, the Uminonakamichi Road, and the city skyline.
At night, the area around Hakata Port Tower creates a romantic atmosphere with neon lights reflecting off the surface of Hakata Bay. The observation deck of Hakata Port Tower is also illuminated at night until 10:00 p.m., creating a wonderful atmosphere.
Bayside Place Hakata also has a bayside market, hot spring facilities, and a boat pier, making it a popular leisure facility in the heart of Fukuoka and a popular spot.
The Hakata Port Bayside Museum on the first floor is a free facility where visitors can learn about the Port of Hakata and its ships.
Fukuoka City Museum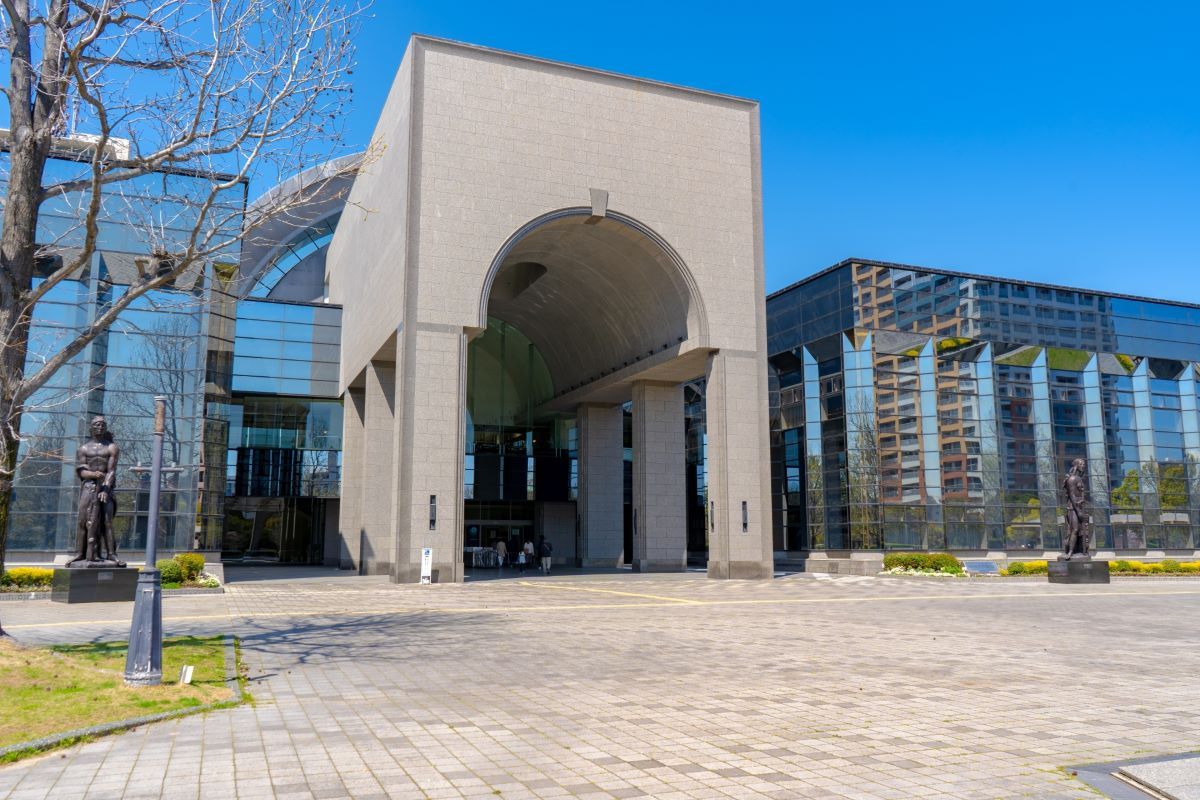 Next, let's go to the south side of the Momochi Beach area called "Seaside Momochi. South of Fukuoka Tower is the Fukuoka Museum, and to the west of the museum is the "World Architect Street," which is also a tourist attraction.
The most notable sightseeing spot at the Fukuoka Museum is the famous gold seal of King Hanwha Nukoku. Nukoku" is thought to have been a country located in present-day Fukuoka, on the coast of Hakata Bay, and the gold seal was found on Shiga Island, about 9 km north of the Museum.
The museum also houses and exhibits many other cultural assets related to the Kuroda clan, the former lord of Fukuoka, such as the "Nihon-go," the three famous spears under heaven mentioned in the lyrics of Fukuoka Prefecture's folk song, "Kuroda-bushi.
Official and related website URL: http://museum.city.fukuoka.jp/
Fukuoka Dome (PayPay Dome)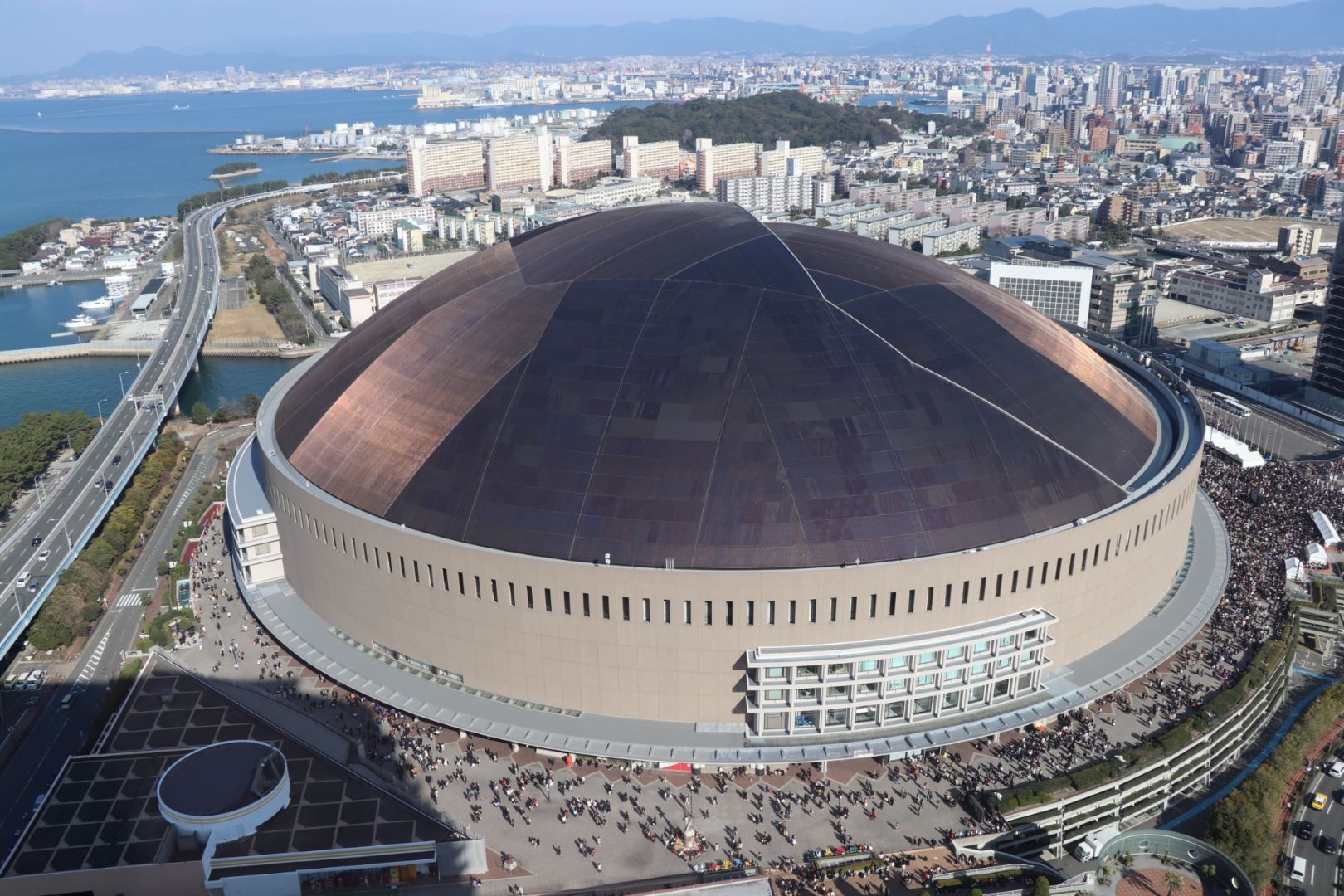 Fukuoka Dome (PayPay Dome), home of the Fukuoka Softbank Hawks, is Japan's first multi-purpose dome with a retractable roof that is used not only for baseball games but also for concerts, exhibitions, and various other events.
When professional baseball games are held, the dome has a capacity of 40,000 people, and its five interlocking "Hawks Vision" screens boast one of the world's largest total display areas for an indoor facility. Tours of the benches, locker room, bullpen, and other areas used by the players are offered on a regular basis.
Access: Train 15-minute walk from Exit 3 of "Karajinmachi" station on Subway.
BOSS E-ZO FUKUOKA
The seven-story building is packed with innovative content, including spectacular attractions such as a 100-meter-long tube slide that goes from 40 meters above ground level all the way down to the ground along the building wall, and a state-of-the-art interactive museum by Team Lab!
E-ZO" means "Exciting Entertainment Zone," and as the name implies, it is a new attraction in Fukuoka that will excite both children and adults.
Marinoa City Fukuoka
Marinoa City Fukuoka, is a seaside amusement facility that also offers a great night view.
The well-stocked shopping mall has approximately 170 stores making it the largest outlet mall in Kyushu, so you can enjoy shopping and dining to your heart's content.
Marinoa City Fukuoka is not only a restaurant and shopping mall, but also a Ferris wheel. It is a very large Ferris wheel, and when you get to the top, you can enjoy a panoramic view of Fukuoka.
Marine World Uminonakamichi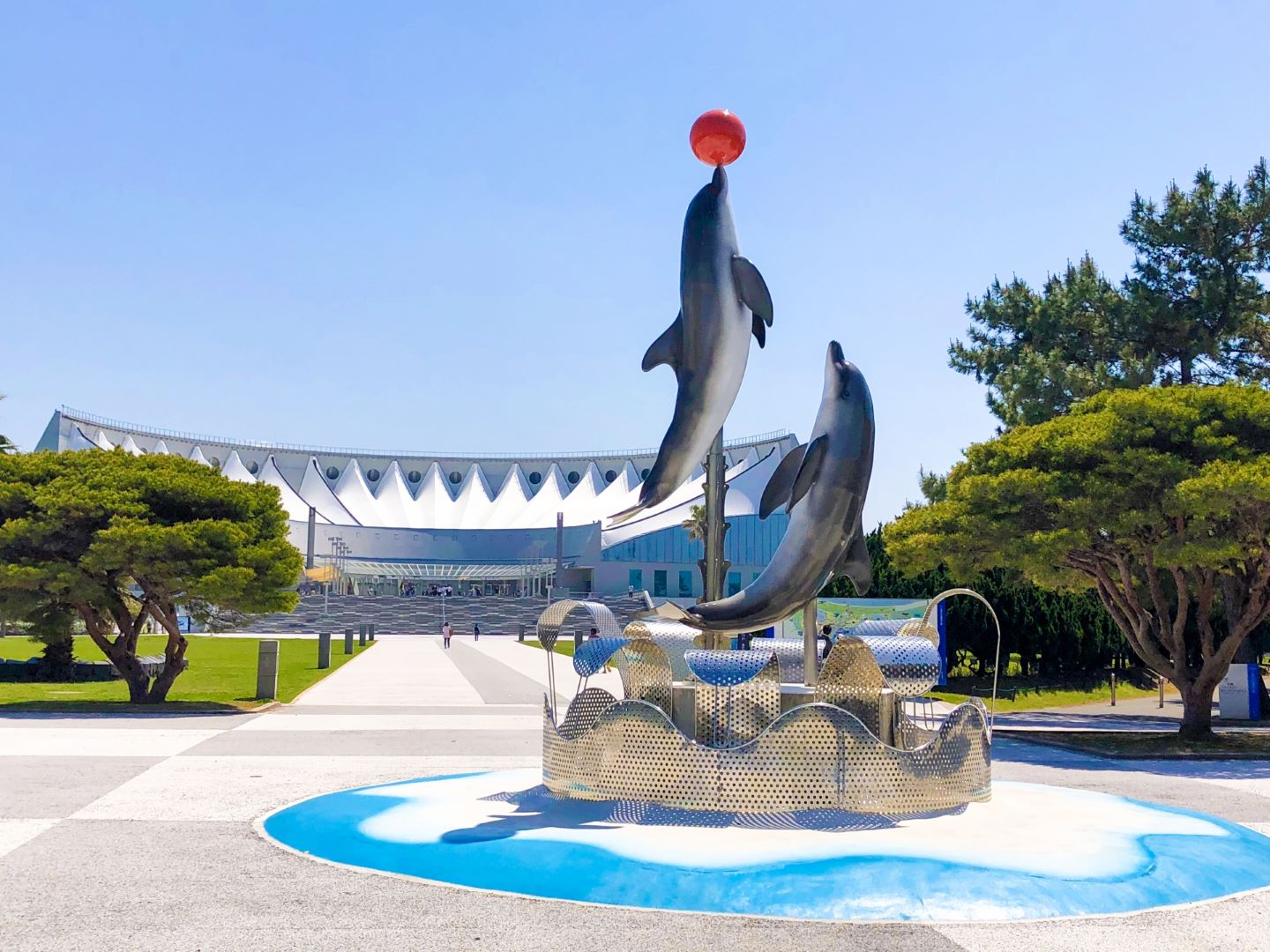 Marine World Uminonakamichi is located on a sandbar surrounded by Hakata Bay and the Genkai Sea, and is easily accessible by train or bus from downtown Fukuoka. 5-minute walk from JR Uminonakamichi Station, the aquarium is very popular among Japanese and foreign tourists alike.
Here, visitors can closely observe the "Kyushu Sea" from a variety of angles, including aquariums that reproduce the coastal waters of Kyushu Prefecture, "Amami Coral Reef," "Kyushu Jellyfish," "Kyushu Deep Sea," and "Kyushu Open Sea," a giant 7-meter-deep tank that represents the warm waters of the Kuroshio Current.
The "Kyushu Outer Ocean" is a large tank that represents the warm waters of the Kuroshio Current. The dynamic dolphin and sea lion shows with Hakata Bay in the background are always crowded, so it is recommended to reserve your seats early.
Fukuoka Zoo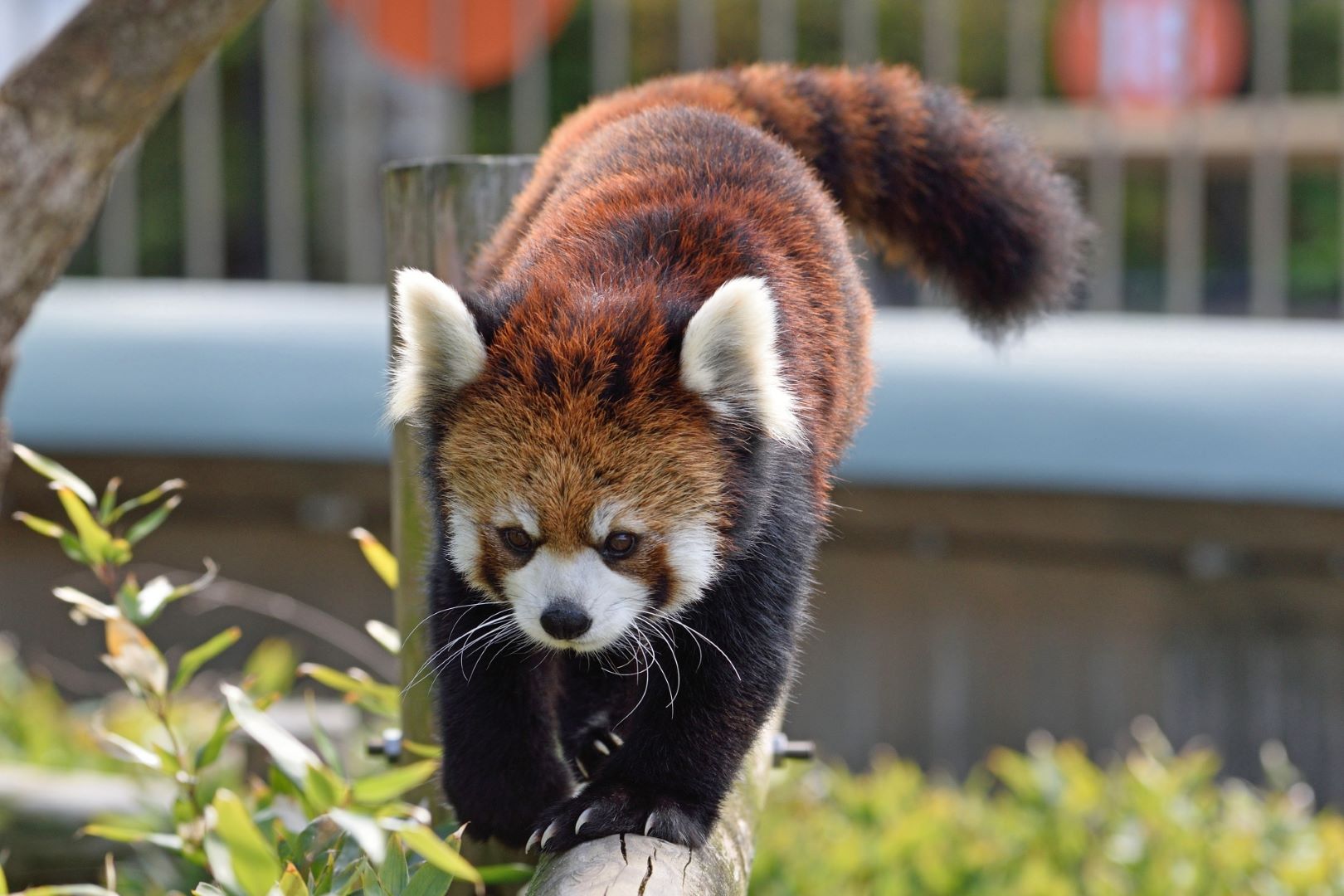 Fukuoka Zoo, Located in the center of the city, the zoo exhibits 450 animals of about 110 species, including hippopotamuses and giraffes.
In January 2022, the penguin house will be renovated, and visitors will be able to see penguins from various angles from right under the pool.
The zoo also offers a wide variety of guided tours and hands-on activities by zookeepers, making the zoo an enjoyable learning experience for both children and adults. Access to the Fukuoka Zoo is a 15-minute walk from Yakuin Odori (Zoo and Botanical Garden Exit) Station on the Fukuoka Municipal Subway Nanakuma Line.
There are quite a few places to go around, so it's a good workout for the whole family lol Inside there is a souvenir corner and a place to eat ice cream and other snacks.
Nokonoshima Island
Nokonoshima Island is only 10 minutes from downtown Fukuoka. On the island, visitors can enjoy not only the ocean but also seasonal flowers from season to season.
In the summer, swimming and camping can be enjoyed, and the island is crowded with children and young people.
The Nokonoshima area is also a great photo spot for photographers, and it is common to see tourists with cameras in their hands and brides in wedding dresses taking photos for their pre-wedding shoots.
Rape plan blossoms in spring, sunflowers in summer, cosmos in autumn, and daffodils in winter make Nokonoshima one of the most famous flower viewing spots in Fukuoka.
From Meinohama ferry terminal, take the ferry to Nokonoshima ferry terminal (approx. 10 min.)
From Nokonoshima ferry terminal, take Nishitetsu Bus bound for "Island Park". 13 min.
Fee: Adults: 1,200 yen, Children: 600 yen, Infants: 400 yen
Yanagawa
Yanagawa is the birthplace of the poet Kitahara Hakushu and prospered as a castle town in the old days.
A popular sightseeing tour is the moat tour, where visitors can take a leisurely stroll on a donko boat through the streets that still retain the atmosphere of the castle town.
The view of Yanagawa from the water is even more picturesque, and the banks are famous as a cherry blossom viewing spot, with colorful flowers blooming in every season and weeping cherry trees in full bloom in spring.
Be sure to enjoy Yanagawa's specialty, eel steamed in a traditional Japanese style. The plump meat is well mixed with the secret sauce that has been handed down from generation to generation, and you can enjoy its rich flavor.
Access: Nishitetsu Tenjin Omuta Line Yanagawa Station
Access To Fukuoka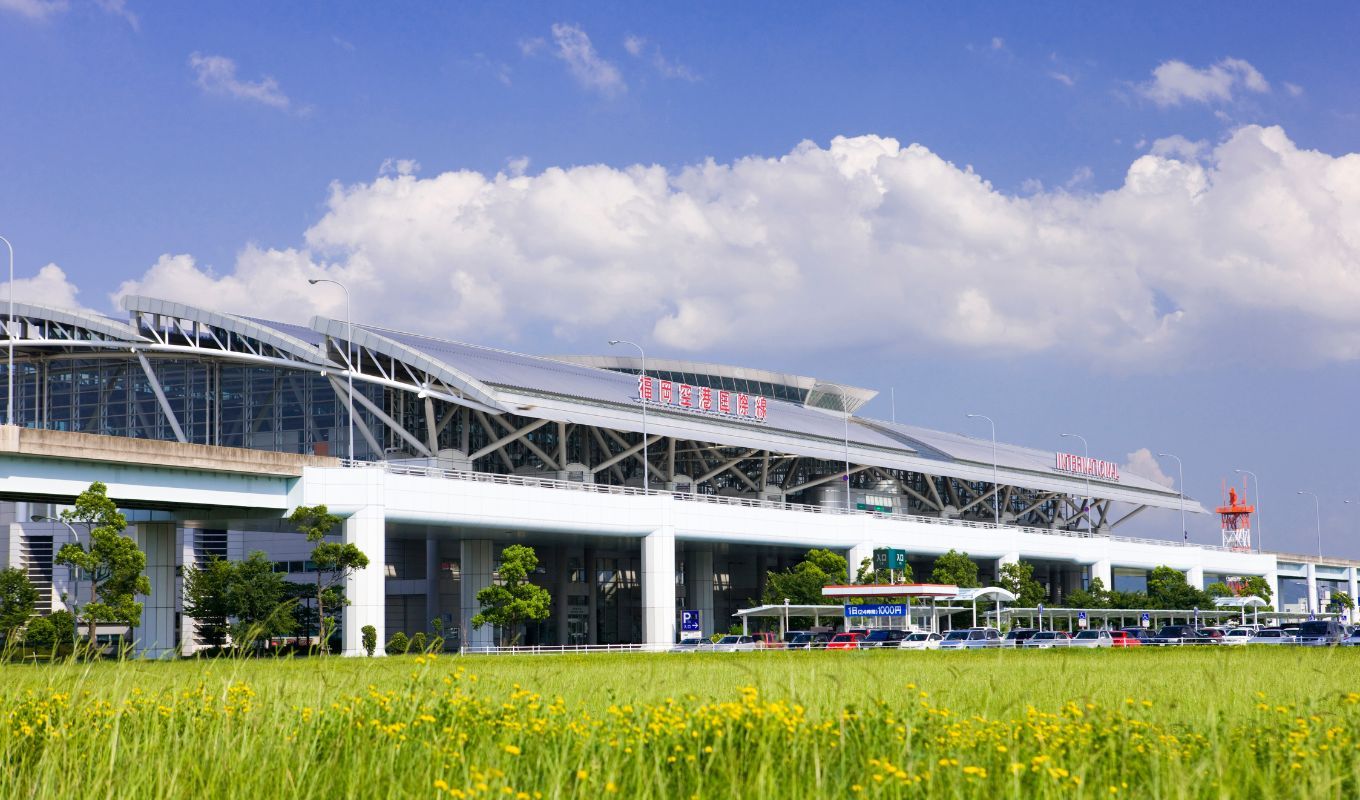 Fukuoka is the largest city in the Kyushu region and is well developed in terms of transportation so by making full use of subways and buses, sightseeing can be done without the inconvenience of a rental car.
The distance from Fukuoka Airport to Hakata Station is only 5 minutes by subway, and first-time visitors may be surprised at how close the airport and the city are. Once in the city of Hakata, you will find everything from large commercial facilities to high-rise buildings, restaurants, and hotels, giving it an atmosphere similar to that of Shinjuku in Tokyo.
From Tokyo
Haneda Airport → Fukuoka International Airport by plane: about 1 hour and 45 minutes
By Shinkansen bullet train: Tokyo Station → Hakata Station: about 5.5 hours
From Osaka
Kansai Airport → Fukuoka International Airport by plane: about 1 hour and 10 minutes
Shin-Osaka Station → Hakata JR Station by Shinkansen bullet train: about 2 hours and 38 minutes.
A Few More Things About Fukuoka
And now we'll leave you with a few more quick facts about Fukuoka
The area is famous for its traditional Hakata dolls
The city center area is referred to as Tenjin and not Fukuoka
You can find delicious Hakata ramen almost everywhere in the city
Fukuoka Tower is the tallest seaside tower in the world
There are many souvenir shops in the main Shinkansen station area